[AdSense-A]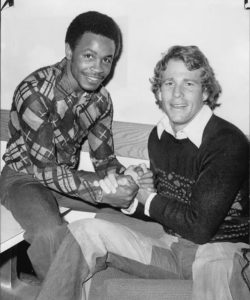 (Publisher note: Ryan O' Neal is a long time supporter of Ringside Report and a huge boxing fan.  He told me personally he is in deep mourning for the loss of his beloved friend Hedgemon Lewis. Ryan, on behalf of RSR, I send you our condolences as well to the Lewis Family in their time of  grief.  RIP…)
By Donald "Braveheart" Stewart
At one time managed by the legend that is Ryan O'Neal, a three time world title challenger and holder of NYSAC welterweight world title, two weight Golden Glove champion – lightweight and welterweight – boxing star, Hedgemon Lewis, 53-7-2, 26 KO's lost his fight with COVID -19 and on the final day of March of this year passed.
Lewis had a unique story to tell that saw him born in Alabama, move to Detroit and then head west in search of glory – some of which he clearly found. The story of how he came to box was a similar to many young boys who found themselves bored and a little troubled. With his friends he once was out toppling trash cans and generally being young when a voice called them out and called them over. Ultimately, he called them into his gym and the legendary trainer, Duke Ellis was to allow these kids to let off steam in there. Lewis was the only one who stayed and went on, by the age of 12 to box in a ring.
His amateur career almost led to an Olympics, but he lost to Charles Ellis, brother of Jimmy, in the trials. Even without that Olympic experience his amateur record was impressive. He had a 72-6 record, captured a National Golden Gloves title as a lightweight and winning AAU and National Golden Glove championships at welterweight.
But by 1966 it was time for him to make the move into the professional ranks and he was to do so against Arnold Bushman, also making his debut, in the Music Hall Arena in Cincinnati. Lewis saw his opponent retire after the 2nd round. Winning became a habit thereafter as he went on a 22 fight winning streak. His abilities were noticed not just by the boxing world but by the world of entertainment as the management he had included not just Ryan O'Neal, but also Bill Cosby and Robert Goulet.
O'Neal was to remember to the Detroit Free Press back in 2016, the impression that Lewis had on him when he became involved with him and throughout their association, "We had this wonderful relationship. He grew up in the Brewster Projects. He had a rough early life. He was a black man and I was a white man. There were a lot of problems going on in those days, but not with us. … "We went around the world together." The management team put together to look after him stayed in place from 1967 to 1978.
In his 44th fight, when he was just 25, he found himself contesting the WBA and WBC welterweight title against the highly rated Cuban Jose Napoles. It was December 1971 in Inglewood. It was a very close contest over the 15 rounds and eventually it was Napoles who took a tight decision. Lewis was clear then and forever afterwards – he was robbed!
Napoles was making his first defense of his second run as world champion at this weight. Lewis troubled him early and had the best of the first half of the fight. By the eighth Napoles was back in it and started to dominate. Lewis was not finished though and in the 14th nearly toppled the champion. The 15th round was the champions as he knew he had to impress to win, and he did both impress and take the points win. After the fight, Lewis commented, "I thought I won it," he said then. "He might have hit harder, but I got in more punches."
The man in his corner, Thell Torrence was a little more diplomatic saying, "It was a good, close fight. Maybe we could have gotten the decision, but you've got to remember that Napoles was quite the fighter."
It was not his only world title fight.
Recovering from the defeat to Napoles, he went on to beat a former world champion, Billy Backus not once, but twice. The rematch brought him the NYSAC world welterweight title. Both fights took place in Syracuse and having got the respect of the New York boxing scene all Lewis now needed was the chance to avenge that Napoles loss and get a more recognized world title belt round his waist.
That opportunity to both avenge his world title loss and fight again for a world title came in August 1974 in Mexico City. Napoles was, by now, 34 and had just lost in his attempt to take the middleweight title from Carlos Monzon. The stars might not, again, have been aligned for him to win but the stars were in the auditorium as trainer Torrence remembered, "Ryan O'Neal was with us that night and had he won it would have been a great celebration But it was not to be. He was a proud guy, a good guy, determined and wanted to win badly. But that's boxing for you."
The fight was stopped in the ninth with Napoles winning much more convincingly this time round.
Lewis kept going and his final world title attempt was at Wembley in the UK against John H Stracey. It was a prestigious night as he was stopped by Stracey in the 10th. Stracey had done what Lewis had failed to do and he had beaten Napoles for the title stopping Napoles in the 6th round of that title fight. Lewis retired straight afterwards. Stracey retired soon afterwards. Lewis kept a promise to his mother that he would call it a day when he was 30 – when he fought Stracey, he was 30.
With a 62 fight career there was certainly no slouching and in 2006, the California Boxing Hall of Fame quite rightly inducted him.
That induction would not only recognize his talent in the ring, but his association with the sport outside the ring. He never left the sport and was a notable coach and corner man working with Eddie Futch, the aforementioned, Thell Torrence and Freddie Roach. His corner work was in the cause of such massive names as Ken Norton, Virgil Hill, Mike McCallum, Mike Weaver, Montell Griffin, Marlon Starling, Riddick Bowe and Wayne McCullough, among many others.
My own view of his abilities, pales into insignificance amongst that of his former coach, Thell Torrence and I am content to give him the final word. He was reported to have commented, "Hedge was a brilliant fighter. Very smart, very slick, good reflexes and an excellent left hook to the body. He didn't do a lot of dancing, but he was quick on his feet and a very smart thinker. He understood how to punch, when to punch and where to punch, and his ring generalship was very good. He didn't waste a lot of punches and every one of them had a purpose."
Our purpose here at Ringside Report is to honor his memory and note yet another who has lost his life to this terrible pandemic.
Stay safe…
Contact the Feature Writers