[AdSense-A]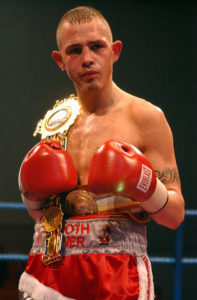 By Donald "Braveheart" Stewart
It is sobering to realize that of my first two articles about individual boxers for Ringside Report in 2021 they have both been to celebrate the life of boxers who have passed away. The pandemic has got grip of us but from both of these boxers it was not COVID-19 that did for them as far as I am led to believe.
Last time out it was an American world champion, this week former British and Commonwealth champion, Nicky Booth 17-5-1, 7 KO's, who has lost his life. In the end, I believe it was liver failure that got him.
Where he never failed was in a ring.
A bantamweight from the city of Nottingham, which also gave us the irrepressible Carl Froch and Nicky's elder brother Jason, Booth was professionally active from 1998 to 2003: significant as it coincided in the UL with the advent of Sky Sports covering boxing. As a broadcaster, they needed product, and the Booth boys gave it plenty.
The greatest tragedy for us, and Booth himself, was that his fight against his demons outside of the ring would appear to have done for him. A further tragedy being that he died so young: days before his 41st birthday.
The pinnacle of his time within a boxing ring could have been his challenge in 2001 for the IBO belt but he should be best remembered for making headway domestically. The British and Commonwealth titles may not carry the same kudos outside of our shores, but they are always tough title to claim.
Booth reigned as the British champion from 2000 to 2003, and as the Commonwealth champ from 2000 to 2002. That he achieved such greatness was more thanks to his ability in the sport rather than his dedication to it as some after his career was complete were ready to testify.
It was not hard to agree with that assessment as his final fight came in 2003 when he was only 23 years old, showing that there were issues around him that became more his life and increasingly his legacy.
That anyone who punches someone else in the head for a living comes from and ends up in a tough or difficult place should never come as a surprise. It should always heighten the sadness we feel when such a young man is described by almost all who knew him as charismatic, a fantastic personality and "a real nugget": the final accolade from the head of Sky Sports boxing development, Adam Smith.
His battle with drugs and its addiction may have finally caught up with him but we have the memories of a career that promised much but did not quite deliver at the highest level, though it brought much to its passing.
Smith revealed his highlight of watching the younger of the Booth boys, as they managed to light up the early years of Sky Sports boxing coverage, "I remember Nicky's win over Stephen Oates in a cracker at the Harvey Hadden. He was in great fights, he was thrill a minute. They tried so hard with Nicky, to get him back into the gym, but it was a fight they couldn't win."
Whilst they could keep him in the gym, he had an inauspicious start where he fought his first five professional fights ending with a record showing he had won twice, drawn once and lost twice: 1998, his debut year was not kind!
Beating Delroy Spencer twice in 1999 then started the run towards the titles.
In 2000, he beat Tommy Waite on points for both the Commonwealth and British crowns, in Liverpool. He defended them successfully against Ady Lewis back home in Nottingham by stoppage and then found himself sharing a ring in Wembley on the 14th July 2001 with Jose Sanjuanelo but was stopped in his world title glory opportunity.
After that excitement he went on to successfully defend his British title twice more – against Jim Betts, by stoppage in 2001, then in 2002 against Stephen Oates in that well remembered fight by Smith before successfully defending his Commonwealth belt against Moses Kinyua by knockout – all in his home-town of Nottingham.
In the same year he lost his British title on points to Steve Molitor in Brentwood, before regaining it in 2003, the year after on points against James Yelland – back again, at home.
He then found a WBU title fight, at home, beckoning.
Nathan Sting was to beat him on points and bring his career, at 23 to a close. Clearly what was on offer outside the gym was more attractive than what was inside it. He may never have won a world title but as someone who lit up the ring with his personality and his ability, whilst dealing with the demons of his life beyond the ropes, we should never remember that for every world champion there needs to be someone who's history and life serves as a warning. Hopefully Nicky Booth will be remembered most for his achievements but his time in the spotlight serves as a reminder that we all aim for stars, but some of us falter on our own milky way. We should always be there to put those that do back on their spaceships, and let them dream some more; RIP Nicky Booth.
Contact the Feature Writers