[AdSense-A]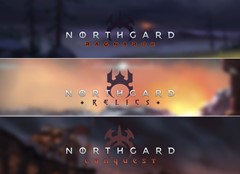 After selling over 2 million units on PC and Console, the Vikings of Shiro Games' popular strategy game Northgard will set foot on iOS devices on April 13th at $8.99/€9.99!
Pre-orders are already available on the App Store at a special 10% off price.
Rest assured that we haven't forgotten about Android devices. The Clans will conquer Google Play later this year.
After years of tireless explorations, brave Vikings have discovered a new land filled with mystery, danger and riches: NORTHGARD.
The boldest Northmen have set sail to explore and conquer these new shores, bring fame to their Clan and write history through conquest, trading, or devotion to the Gods.
That is, if they can survive the dire Wolves and Undead Warriors roaming the land, befriend or defeat the giants, and survive the harshest winters ever witnessed in the North.
FEATURES
Build your settlement on the newly discovered continent of Northgard
Assign your vikings to various jobs (Farmer, Warrior, Sailor, Loremaster…)
Manage your resources carefully and survive harsh winters and vicious foes
Expand and discover new territory with unique strategic opportunities
Achieve different victory conditions (Conquest, Fame, Lore, Trading…)
Play against other Clans with different difficulty levels and personalities
Includes the following major updates: Ragnarok, Relics & Conquest​
More news about the Mobile version of Northgard will be delivered in the following weeks.
Players can subscribe to our Newsletter here: http://bit.ly/MobileNorthgard
How will you honor your Clan?