Become a Gladiator , Gather your Audience, Fight Epic Fights, and Let Your Viewers Vote on the Results – Breaking Gaming News
[AdSense-A]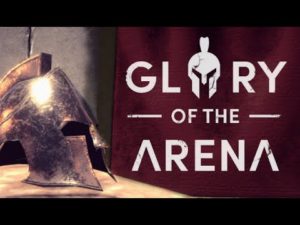 If you think creating entertaining content for views, audience engagement, popularity, influence, and even money is the invention of our time, think again. Because if you move back in time to the third century BC, when it started, or second century BC when it became what was later propagated by pop culture, you'll find out that gladiators' fights were exactly that – public entertainment observed live by tens of thousands of enthusiastic viewers. Spectators who sometimes put so much pressure on Roman magnates by cheering for or against a particular fighter that they were forced to follow people's will to avoid riots.
Watch the Glory of the Arena announcement trailer HERE to get a better understanding of what the game is all about.
Add the game to your wishlist on Steam (https://store.steampowered.com/app/1492840/Glory_of_the_Arena/) if you want to join the ranks of elite warriors.
ABOUT THE GAME
Glory of the Arena is an action game with its beating heart in online PvP mode, where the audience watching your fights will vote for or against you depending on your performance. Become a gladiator, dive into the brutal world, and fight your way up the ranks and into your spectators' hearts. Remember, here you might be victorious and still lose if your fighting style is boring to watch or you're being too effective by killing your opponent with one blow in the first minute of the fight. It's not war, it's The Games, and as such, it's supposed to entertain. You're as much a showman as a fighter. You won't succeed by simply killing your opponents – you need to do it in a spectacular way. Build an awesome sequence of blows for a combo that will leave your viewers speechless. Make fun of your opponent by avoiding their every attack while counterattacking at the same time. Avoid holding back, hiding, or running from a fight as your audience will hate it and punish you with their votes. Fight with honor or get a reputation as a merciless killer – whatever wins the spectators' hearts. Start building your reputation on a small local stadium, moving to battles on ships and fighting animals, then finally entering the Colosseum itself. Fight your way up from the province to the greatest areas of the Empire and become a living legend.
GLORY OF THE ARENA – MAIN FEATURES
Online PvP mode. The game was specifically designed with content creators and their audiences in mind. Here, the fun you have as a player is equally as important as the fun your viewers have (or not) while watching you. Are you ready to expose yourself to their judgment?
Let your audience decide the result of your fight. Use the Streaming mode to connect with Spectators, or just use AI viewers. Let the audience vote whether you should get more challenging enemies, a powerup, a thumb up, or a thumb down.
Fight with style. Choose your avatar, armor, and weapon. Train your skills and unlock the moves. Jump on a horse or switch weapons. Anything to keep the audience happy!
It's all about the viewers. They came to the arena to be entertained, so show them your best moves! Make a ruthless kill or spare a life when they demand it. If the audience is happy with your performance, they will reward you with money and glory. But if the only thing you give them is boredom and you let their expectations down, they'll punish you with negative votes.
Build your gladiator's career in a single-player campaign. Start as a fighter with no-name against second-rate competitors in dingy provincial arenas. Make sure people slowly start to recognize you. Ensure your fights become more spectacular by riding horses, fighting on ships, and going up against animals. Become a star among gladiators popular enough to finally enter the Colosseum itself and make history.
Glory of the Arena is being developed by Sylwester Osik. The game is planned to be released on PC.