RDR Promotions Is Back on Saturday March 6th at the Sportsplex in Feasterville, Pa.- Boxing News
[AdSense-A]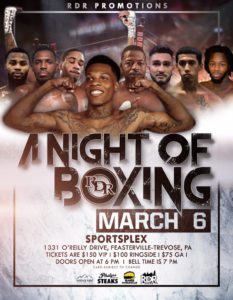 RDR Promotions will present a great night of professional boxing on Saturday night, March 6th at The Sportsplex in Feasterville-Treavose, Pennsylvania.
Rising junior welterweight Shinard Bunch will see action in the eight-round featured bout.
Bunch, 21 of Trenton, New Jersey has a record of 12-1 with 11 knockouts. The two year professional has kept an ambitious scheduled as he would have competed in 14 fights (He fights February 12th in Orlando) in 22 months, and this will be his 4th fight in 2021.
The opponent for Bunch will be announced shortly.
In six-round bouts:
Edgar Joe Cortes (6-6-1) of Vineland, NJ takes on Michael Stoute (3-2-1) of Long Island, NY in a bantamweight bout.
Mike Hilton (10-0, 7 KOs) of Trenton, NJ fights Twon Smith (3-4-2, 2 KOs) of Oklahoma City in a cruiserweight bout.
Nahir Albright (9-1, 3 KOs) of Sicklerville, NJ takes on an opponent to be named in a lightweight bout.
Daiyann Butt (6-0, 3 KOs) of Philadelphia takes on an opponent ti be named in a super lightweight contest.
Rashie Jefferson Jr.(4-0) fights an opponent to be named in a featherweight contest.
In a four round affair,
Undefeated cruiserweight Jakub Sowirko (2-0, 1 KO) of Trenton, NJ takes on Philly-Favorite, Garrett Wilson (18-17-1, 9 KOs).
Nasir Mickens (1-0, 1 KO) of Philadelphia will tangle with Nathan Benichou (2-2, 2 KOs) of Puebla, Mexico in a junior lightweight contest.
Tickets are $150 for VIP; $100 for Ringside and $75 for General Admission and can be purchased from the fighters or emailing rricerivew@yahoo.com
1st Bell is at 7 PM
All Covid-19 Protocols will be followed and masks must be worn at all times.
The Sportsplex is located at 1331 O'Reilly Drive in Feasterville-Trevose, PA.