[AdSense-A]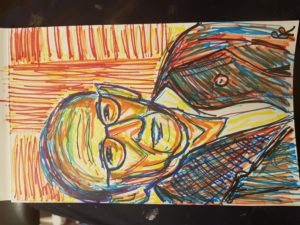 By Radical Rhymes
I've often watched those programs where celebrities (it's always celebrities these days) look into their family histories with a mixture of amusement and bemusement.
Alongside experts and a camera crew, they pore over records, documents and old pictures and try to piece together where they came from and who their ancestors were. And to a degree it makes reasonably interesting viewing.
It's always fascinating to see how these 'important' people react to the news that their relatives were inventors or prostitutes. But, setting aside my cynicism about celebrity cultism and the trend in cheap TV production, there are some quite emotional moments.
And yet, I have spent my entire life pretty much uninterested in my family tree. I'm transfixed by history, just not my own. Who cares what my forebears did, or where they came from? What's important is the now, the right here… right? What relevance does the past really have for us as we live in the present trying desperately to carve out a future? To paraphrase Henry Ford personal history is bunk.
That's what I always thought, until very recently.
It was brought home to me when I found an old photo of my Grampy. My Grandfather. Well, I say MY Grampy, and he was in word and deed, but I don't really know whether that's the case.
You see, my dad was born out of wedlock in a small Cornish town alongside a major naval port. The story his mum told him was that his father had been a senior naval officer. The product of a fleeting romance – which I think fueled Dad's obsession with the sea and specifically the navy. He lied about his age and joined up at 14.
The worst thing for my Dad was that his mother, my Grandmother (someone I never met), refused to tell him the truth. She went to her grave carrying a secret that tormented him for the rest of his life.
So, what about Grampy? Well, as far as we know he was my step Grampy. He married my Grandmother later and they went on to have two more kids. My Uncle Des and my Aunt Betty. A half brother and sister.
But there are problems with the story. My Dad looked, acted and sounded exactly like Grampy. They had the same face and the sane mannerisms, and all of the kids looked alike too. My own belief is that Grampy was my real Grampy, that he fathered my Dad and that his own mum denied him that knowledge.
The reason she wouldn't say? Grampy would have been 14 when Dad was born. It was better to invent a mysterious senior officer for a fly-by romance than bear the shame of being involved with an underage teenager. Of course, there was also the threat of legal persecution as well.
I understand why she felt ashamed, and fearful of judgement, but I wish she'd done the right thing and told Dad the truth. A perpetual wound could have been healed, and my Dad really had enough to deal with, bless him.
That's a little piece of my personal history I really would love to have, a puzzle that should have been solved, but sadly never will be.
Check out Radical Rhymes all new website for his latest work and to also, commission one for yourself.
Contact the Feature Writers