[AdSense-A]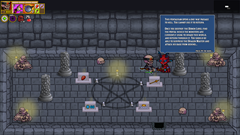 The developer Bigosaur is happy to announce that the free Demon Hunter expansion for Son of a Witch is nearing the end of beta testing access and will be released on Steam for PC, Linux and macOS on February 25th. The Nintendo Switch release is coming later this Spring.
Son of a Witch is an action roguelike for 1-4 players with focus on weapon and item combos similar to The Binding of Isaac. With optional permadeath, various difficulty levels and cute art, it's perfect to co-op with your SO. The game has been featured by IndieCade, and various European festivals like IndiePrize and GameAccess.
The Demon Hunter expansion is the biggest update to the game since it's release. It features:
A new class: Lich, who brings the total number of available heroes to 11
The Hell level with 7 new enemy types and 4 new bosses
7 new special challenge rooms
7 new weapons, including the Blade of Light which reminds us of a lightsaber
18 new magic items with various new gameplay mechanics
3 new random potion effects
3 new new magic spells
5 new pets, each helping the heroes in a different way
27 new achievements
Endless Arena leaderboard
various minor improvements and bug fixes
The indie solo-developer behind the project, Milan Babuskov, said: "The new Demon Hunter expansion will be free for all the players who own the base game, but there's a possibility of the base price increase after the release. I'm thankful to all the players who are playing and giving useful feedback. It makes me still want to add new free updates, even though the game released a couple of years ago".