[AdSense-A]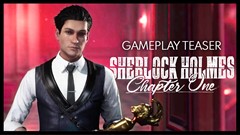 A Taste of Sleuthing
Frogwares say the game is planned for release simultaneously on Epic, Steam, GOG and consoles | Full gameplay trailer set for March 2021
February 11th, 2021 – Kyiv, Ukraine | Today during The Epic Games Store Spring Showcase, Frogwares debuted their first gameplay teaser showing Sherlock Holmes Chapter One in action running on Unreal Engine 4.
Gameplay teaser: https://www.youtube.com/watch?v=CU9dvdMYUcg&feature
The full gameplay trailer is set for March 2021 along with additional info about what else people can expect from the game.
The game will release sometime in 2021 on PC (Steam, Epic, GOG), PS4, PS5, Xbox One and Xbox Series X/S.