[AdSense-A]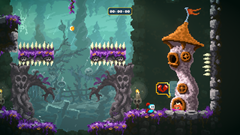 It took only two days to land a playable prototype, so we'll be launching the final game in two months tops, right? Wrong!
Almost exactly 2 years later to the day, Sir Lovelot is finally ready to go chasing damsels on Nintendo Switch™, Xbox One, PlayStation®5, PlayStation®4 and Steam PC.
Launch Trailer:
https://youtu.be/xd-ydQV0ZNg
It's an absolutely heartbreaking hairy-tale, if ever there was one…
Sir Lovelot is on a quest to find the love of his life.
Join him in a wacky precision platformer, where impressing cheeky damsels is harder than a heart of stone!
Your goal is to collect a selection of gifts to offer the next awaiting missus while avoiding treacherous hazards and fighting off weird creatures, all in the best possible time!
Key features:
Besides true sound and real-time moving graphics, this die a million times, single-player, platforming adventure, boast features that include –
Hundreds of screens with devious challenges, in over 40 handcrafted levels
A whole arsenal of unsuspecting nasties roaming the land, plus a fire-breathing boss to round things off
Dozens of time-slicing hidden short-cuts, secret rewards and golden eggs -> damsels really love those!
A beautiful soundtrack by Alexander Falinski, known for his talent on Cut the Rope, LightSlinger Heroes, Tap the Frog…
14 languages: English, French, Dutch, German, Spanish, Portuguese, Italian, Russian, Polish, Turkish, Korean, Japanese, Chinese – Traditional, Luxembourgish
4-6 hours of playtime on average for the first run. About twice as much for the 105% completionists out there
Sir Lovelot launches Wednesday, March 3rd – 2021, review keys however may be requested via Keymailer at any time with no current embargoes on coverage.
Review keys and further information may also be requested by contacting pixel games directly, by mailing games@pixel.lu .