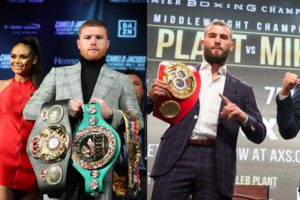 At the end of February, the WBC and WBA super-middleweight champion, Saúl Canelo Álvarez, will face-off against the Turkish Wolf, Avni Yıldırım. The 29-year-old former IBO and WBC challenger was last seen in 2019 when he lost a split technical decision to Anthony Dirrell after an accidental clash of heads. Though no one has watched Yıldırım box for two years, fans of the sweet science see this fight as nothing more than a squash match, a quick cash-grab for Canelo following his dominance of Callum Smith. Top legal mobile betting sites also do not give Yildirim much of a shot, as most operators list Canelo as a -3,000 favorite.
With the upcoming super-middleweight title fight generating no interest, purists are looking to who Ring's best active boxer could face next. The obvious choice is Tennessee native Caleb Plant, who is coming off a quality performance over Caleb Truax. Plant has a record of 21-0 and is the current IBF super-middleweight titleholder.
In February of 2020, he received backlash for debunking rumors of a Canelo fight in May of that year. Plant later clarified that he was interested in facing Canelo and even gunned for Smith's December spot. Nevertheless, following his shut-out win over Traux, Plant thinks that he is the rightful contender and the man to wear all super-middleweight crowns.
Can Plant Avoid Canelo's Power and Dish-Out Punishment of His Own?
Everyone knows that Canelo's power is reaching mystical levels and that letting him hit you is a luxury that few fighters can afford. It is not often that you see a super-middleweight dispatch a light-heavyweight in the fashion that Sergey Kovalev got laid out. Granted, the Russian admitted that he did not recover in time following his war with Anthony Yarde, but that does not negate the level of brutality with which Canelo KO'd him.
Plant showed defensive weaknesses against Traux, as he kept getting hit with overhand rights. A punch that he will likely not be able to absorb from Canelo. His ability to move away from right-hand bombs remains iffy, as he has been hit clean in most of his fights. Furthermore, Plant does not have a reputation for being a power-puncher, with only twelve KO's to his name, and he is a bit small for super-middleweight. Given Canelo's iron chin, many doubt that Plant will be the first man to put him down.
Tenacity and Courage Could Lead Plant to Victory
Everyone is beatable. Though Canelo's record is 54-1-2, he could easily have three more losses if different judges were ring-side in both Golovkin fights and his Erislandy Lara one. Alvarez struggles with technical boxers who can push a pace and pressure him, as evident in the first Golovkin fight. The winner of this match will be one step closer to unifying the division, which will be mean targeting a match with the last belt holder, Billy-Joe Saunders.
A massive plus for Plant is that he does not seem fazed by Canelo, and he still has room for improvement until this match-up occurs. He has shown superb conditioning, and his footwork and hand-speed are more than decent. If he manages to keep calm and stick to a game plan, he could ride out a decision. However, we have not seen him respond to pressure from a more physical boxer, and we do not know how he reacts when badly hurt.