"Canine Columnist": The World Does Not Revolve Around One Dog
[AdSense-A]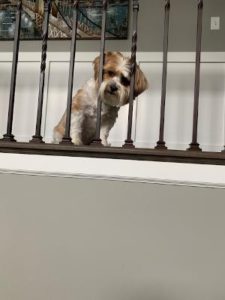 By Santino Corleone Berkwitt
My mommy was reading an article to me on Facebook about Covid, and how it is impacting black and brown people. A person with white smooth fur got mad because she felt excluded. I don't understand why she felt this way, and I think that it was selfish of her to get mad. Here's why.
My friend Benny is a Bulldog. The vet told Benny's mom to be careful because Benny is predisposed to having respiratory problems. He did not say that Bulldogs were the only breed that had this issue. He merely said that it has been observed more in dogs whose faces are smashed in. Benny has to stay cool during the summer because he has gotten seriously ill.
My sister Bella had a respiratory issue once as well.
My mom didn't get angry when she read the article though. She realizes that the likelihood of Benny getting sick is greater than Bella getting sick, and so she wants the focus of this to go to the parents of Bulldogs and similar breeds. She realizes that it is not always about her. And she realizes that Bella's face shape is not the cause of her getting the respiratory ailment.
Sometimes I wish that people would be more compassionate to people who experience issues rather than wanting everything to be about them.
[si-contact-form form='2′]