[AdSense-A]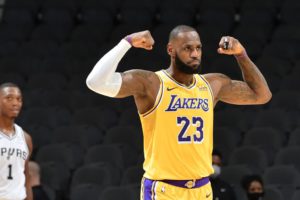 By Ron Signore
Last week brought some attention to many in the social media world towards Lebron James. James was directly criticized to lay off the political activism and focus on his game on the hardwood. Naturally, James rebutted with the obvious notion of advising his critic to go kick rocks, but this is a topic we tend to see a lot. Far too often, we see and hear ignoramuses' thoughts to stifle those on certain social platforms from spreading their views. There are people who will refuse to listen to music by a certain artist, see professional sports players play or even watch entertainers because their views politically conflict with theirs. James is just the latest pop up to this issue.
What gives someone the right to strike down someone from preaching their beliefs? And before I hear our right-wing cry-baby notions that this is exactly the same thing as any social media platform banning Trump or Trumpisms by way of misinformation, it is not the same thing. We have never debated that these idiots have the right to say or believe what they want, despite the lunacy some of their notions bring. What was chosen for action was not allowing those messages to be highlighted in certain non-governed platforms. These idiots have not been criminally prosecuted for their words, unless by law they create a dangerous action that leads to the harm of someone else's liberty.
James is from Akron, OH. Akron is really a small little poor town in northeast Ohio. He lived in a demographically poverty challenged area where life was not the glamourous style he currently exercises today. In fact, the one area I truly support Lebron is his philanthropy. Though, it is my opinion that he resembles that mentality similar to the Nation of Islam preached by Malcolm X, in a sort of anti-white with black supremacy attitude, his execution of doing good for the masses is significant to our country. People seem to mistake the fact that these high-profile citizens are left minded because of their race or religion or creed, or whatever else can be considered a variable. Those in the spotlight are typically left driven because they have a human element to them. They have a practice what they preach mentality. They demonstrate the stewardship of most religions in caring and spreading the wealth. They have every reason to back right-winged agendas when it comes to protecting their finances, yet they accept taxation to help the country and still focus spreading opportunity to those in specific areas.
At the end of the day, you have the right not to listen as much as they have the right to use whatever platform they are on to speak their mind. Just because they're skillset is in a high-profile area socially and not politics is not a reason to condemn their words or actions. Everyday we have politically engaged persons in elected positions who have access to platforms of the masses and at times, they make less sense than those on the outside of the government. As per usual, hypocrisy driven from the right is exercised and embarrassingly dismissed for those of us carrying on spreading the mission of good and uniting the citizens of this great country.
I am interested in your stance on this topic… please share your thoughts!
Contact the Feature Writers