"Canine Columnist": Your Best Advocate is YOU!
[AdSense-A]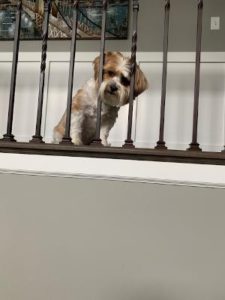 By Santino Corleone Berkwitt
Living in a puppy mill gives a pup the sense of speaking up for themselves. If I didn't dash to the bowl first, the other pups might drink all of the water, and then I'd have to wait for my human mom or dad to give us a refill. The same thing was true with food. Don't get me wrong, I wanted all of my fur brothers and sisters to eat, but if I didn't have a sense of barking up for myself, I might have gone hungry or without water for a bit. Unfortunately, my mom with the smooth fur learned this the hard way.
My mom with the smooth fur can be laid back at times, maybe passive to a fault, and the danger in that is something that is very important can go unnoticed or undone. My mom isn't like this with others though. If Bella or I am sick, she very promptly takes care of us. It's herself that she often puts on the back burner. Several years ago, she injured her knee. Instead of going to the doctor, she iced it and didn't worry about it. Fast-forward a few years later and she was told that she needed a knee replacement. She put it off for a bit, but it got so bad that my dad insisted that she took care of it. She did.
Mom had surgery and was healing but felt that something wasn't quite right. After months of therapy, her doctor told her that she was great! He told her that she looked great and was doing great and that she simply needed to continue her exercises at home. He released her from care, telling her to follow up with him in 6 months.
Mom was still not feeling right and really wasn't functioning well so she decided to see another therapist who could perhaps help to get her back to normal. The therapist recommended that she see another surgeon who specialized in issues after surgery. She took the therapist's advice and found out that the implant was detached. Had mom not continued to find answers to what was still troubling her, things could really have been bad.
Everyone can learn a very important lesson from this. If you feel that something is not right, keep seeking until you find the answer. We all know our bodies. We all know what feels normal to us. If we aren't feeling normal, we need to continue to search until we find someone who is both competent and caring enough to spend the time to hear us and act. Regardless if it's a vet, an orthopedic surgeon, an oncologist, whatever, each person and fur baby deserve the best care possible. Advocate for yourself ! Nobody can do it better for you than you!
[si-contact-form form='2′]