Puyo Puyo Tetris 2 Receives Another Content Update – Gaming News
[AdSense-A]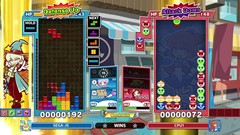 SEGA today releases the third and final post-launch content patch for Puyo Puyo Tetris 2 . The content will also be included in the Steam version when it releases on March 23rd.
Puyo Puyo Tetris 2 is already available for PlayStation 5, PlayStation 4, Xbox Series X | S, Xbox One and Nintendo Switch.
Three months after the official release, the new update includes some new and fun features that will further improve the gaming experience:
Four new playable characters: Harpy, a kind-hearted, winged girl who loves to sing when tragically barely hitting a note, can improve her group's MP recovery in Talent Battle mode. Legamuent , a member of the sacred knighthood with unsurpassed skills, can increase the group's attack value while reducing the opponent's defense. Ragnus , a righteous hero from another realm who has mysteriously taken the form of a child, can, among other things, remove debuffs that weigh on friends. Rozatte , who looks after sorcerers' apprentices, can strengthen her team and remove several rows of Tetriminos from the field.
Spectator mode: Competitive league or casual games can now be watched by up to four viewers. These can cheer the players and even place bets on who will go out victorious.
Background Music : Four new great songs find their way into the game. Among other things: "Escape from the City (Cash Cash RMX)" from Sonic Generations.
New avatars : 20 more images are available to players.
New levels of difficulty : Particularly brave players have to grow beyond their abilities in Super Spicy mode: an extra challenge for the boss raids.
As a reminder, Puyo Puyo Tetris 2 was released on December 8th, 2020. Since then, three huge content updates have been released that offer a great variety of new content:
12 playable characters
Online Features (Boss Raid, 4-Player Challenge Modes, Spectator Mode)
11 background music tracks
60 player avatars
Accessibility improvements for color blind people
All of this new content has been added for free as a thank you to our loyal fans. But that's not all: On March 23, Puyo Puyo Tetris 2 will also be released on Steam.
Puyo Puyo Tetris 2 is available for PlayStation 5, PlayStation 4, Xbox Series X | S, Xbox One and Nintendo Switch.