Sssshhh, I Didn't Always Love Vincent…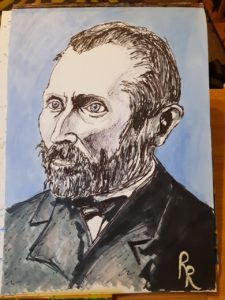 By Radical Rhymes
Anyone who knows anything about me will recognize my love for the work of Vincent van Gogh I often replicate his great paintings in my own style, just as much of what I write directly or indirectly speaks to his life and experiences. To me he is one of three artists – including Frida and Cezanne – that I revere above all.
But it wasn't always so.
I was probably around 12 when I began to love – I told that story elsewhere so I won't risk boring anyone any more than I have to… anyway, I worked out at 13 that if I didn't make money for myself I wouldn't have any kind of regular allowance. Times were tough, cash was always scarce, so, I signed up to deliver papers.
A morning round, one in the evening (which I hated) and another on a Sunday. The Sunday affair was arduous and became almost impossible as the supplements grew in number and became and ever thicker. Some kids had to have carts to take those on, it was brutal.
As usual, I digress…
By 14 I had a regular income supplemented with tips and it was absolutely liberating. I bought books at first – Dracula the very first – and then I noticed magazines. I was delivering one at that time called The Great Artists. It looked amazing. A history of the person, an explanation of their subjects and techniques along with a gallery of their best-known works.
After a week or two I asked Mr H, the shop owner, if I could order it for myself. Weird, I guess. Earning money by delivering magazines, only to spend some of it delivering a magazine to myself (my house was actually on my round). He thought it was hilarious but made the order for me anyway.
I was hooked.
Every week I would shut myself away and study each one minutely. The biographies were fascinating. A myriad exciting, sometimes tragic lives, built around the most wonderful creativity. Degas, Rembrandt, Constable, Turner. I devoured their ideas and created rivalries in my own mind that could never be resolved. How could Turner be included in the Royal Academy at age twenty-six, while Constable had to wait until he was fifty-two? Madness!
My favorite at that time was, no surprise, Constable. I marveled at his landscapes, their intricacy and scale. The Haywain in particular enthralled me, but also the towering Canterbury Cathedral and his dark and stormy rendering of Stonehenge. Just… breath-taking.
But Vincent? I was absorbed by his life story of course, but why would anyone admire his work? Wild. Raw. Childish even. Starry Night appeared to my youthful eyes as the daubing of a madman. Bold swirls and blocked-in buildings. How could anyone take it seriously?
But as the years passed, and I experienced mental health problems myself (my first real attack came when I was 14, an entire Christmas Holiday spent in perpetual tears), I began to really see Vincent's work properly. Its vibrancy and honesty, his desire to reach the inner beauty of things, of places and of people.
Perhaps it was the first time I tried to recreate – in my own way both Starry Night and the Sunflowers – that I truly felt how powerful his genius was, how visceral and almost violent was his talent.
And now I understand – to paraphrase Don McClean – what he tried to say to me. His work has indeed set me free, and I genuinely agonize for his suffering. My own is painful enough, but his end haunts me greatly.
What an artist. What a man. He WAS too beautiful for this world in my humble view, but I am thankful every day that he lived here even though it obviously hurt him to do so.
Thank you so very, very much Vincent.
PS if you haven't seen Kirk Douglas playing him, or the Dr Who episode about him, please do so. Moving is a poor description of their impact.
Radical Rhymes is a professional artist working with a range of media – predominantly animal/human portraits and landscapes – including, most recently, hand painted furniture. You can see his work on Instagram Radicalrhymes1969 or on Twitter @RhymesRadical.
For commissions, please contact him on Twitter via Direct Message or by email at: radicalrhymes@outlook.com His work is also available to buy on Etsy
To commission a painting, you can visit
Radical Rhymes website.
[si-contact-form form='2′]