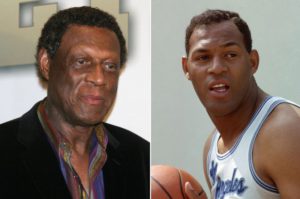 By Geoffrey Huchel
American professional basketball player and coach, Elgin Baylor, died March 22, 2021, of natural causes, in Los Angeles, California. He was 86. Baylor is regarded as one of basketball's all-time greatest players.
Baylor began playing basketball at age 14 and excelled at the sport in high school and college. Throughout his professional basketball career, he played 14 seasons as a forward for the Los Angeles Lakers, was a coach for the New Orleans Jazz, from 1974-1979, and for 22 years was the general manager of the Los Angeles Clippers. He was a gifted shooter, strong rebounder, and an accomplished passer. His acrobatic moves amazed Lakers fans with his trademark jump shots.
His list of accomplishments includes being the No. 1 draft pick in 1958, NBA Rookie of the Year in 1959, 11-time NBA All-Star, and a 10-time member of the All-NBA first team, as well as being inducted into the Basketball Hall of Fame, College Basketball Hall of Fame and the NBA Executive of the Year.
Ringside Report sends our condolences to Elgin Baylor's family during their time of grief.
Contact the Feature Writers