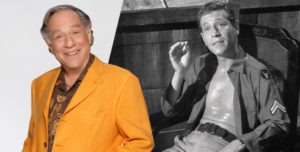 By Geoffrey Huchel
Oscar nominated actor, George Segal, known for his numerous film and television roles, died March 23, 2021 after complications from bypass surgery, in Santa Rosa, California. He was 87.
During his six-decades long career, the prolific actor turned in a variety of dramatic and comedic roles. At the time of his death, Segal was starring on the hit comedy series THE GOLDBERGS (2013-). Audiences may remember Segal from his starring role as Jack Gallo in the comedy series JUST SHOOT ME! (1997-2003), and his appearances in several television series including MURPHY'S LAW (1988-1989), MURDER, SHE WROTE (1984-1996), BURKE'S LAW (1994-1995), CAROLINE IN THE CITY (1995-1999), THE NAKED TRUTH (1995-1998), TRACEY TAKES ON (1996-1999), PRIVATE PRACTICE (2007-2013), BOSTON LEGAL (2004-2008), and ENTOURAGE (2004-2011).
One of Segal's earlier film roles was in SHIP OF FOOLS (1965), with Vivien Leigh. A year later he starred in DEATH OF A SALESMAN (1966). From that point on Segal enjoyed a successful film career, and received an Oscar nomination for his performance in WHO'S AFRAID OF VIRGINIA WOOLF? (1966), with Elizabeth Taylor and Richard Burton. His additional film credits include THE ST. VALENTINE'S DAY MASSACRE (1967), OF MICE AND MEN (1968), NO WAY TO TREAT A LADY (1968), WHERE'S POPPA (1970), THE OWL AND THE PUSSYCAT (1970), A TOUCH OF CLASS (1973), FUN WITH DICK AND JANE (1977), LOOK WHO'S TALKING (1989), FOR THE BOYS (1991), LOOK WHO'S TALKING NOW (1993), TO DIE FOR (1995), THE BABYSITTER (1995), THE CABLE GUY (1996), and THE MIRROR HAS TWO FACES (1996).
Ringside Report sends our condolences to George Segal's family during their time of grief.
Contact the Feature Writers