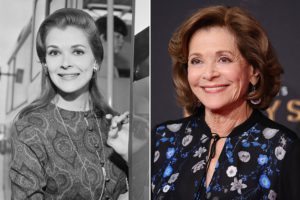 By Geoffrey Huchel
Golden Globe nominee and Emmy winning film and television star Jessica Walter passed away in her sleep on March 24, 2021, in New York City. She was 80 years old.
Born in Brooklyn, New York on January 31, 1941, Walter began her career on the stage, with theatre credits both on and off-Broadway. She then made the move to television and film and built an incredible body of work that has spanned six decades. Audiences remember Walter for her performances as Evelyn in the film PLAY MISTY FOR ME (1971), co-starring Clint Eastwood, Lucille Bluth, the matriarch of a dysfunctional family on ARRESTED DEVELOPMENT (2003-2019), co-starring Jason Bateman and Malory Archer on the animated action/comedy series ARCHER (2009).
Her additional television and film credits include LOVE OF LIFE (1951-1980), THE DEFENDERS (1961-1965), IT TAKES A THIEF (1968-1970), KISS ME KATE (1968), HOME FOR THE HOLIDAYS (1972), MANNIX (1967-1975), LOVE, AMERICAN STYLE (1969-1974), WONDER WOMAN (1975-1979), MIRACLE ON ICE (1981), THE FLAMINGO KID (1984), THE LOVE BOAT (1977-1987), DINOSAURS (1991-1994), MURDER, SHE WROTE (1984-1996), 90210 (2008-2013), and AMERICAN HOUSEWIFE (2016), among many more.
Ringside Report sends our condolences to Jessica Walter's family during their time of grief.
Contact the Feature Writers