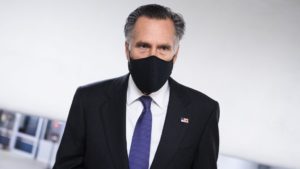 By Nikki Slusher
GOP Senator Mitt Romney (UT) was announced as the recipient for the John F. Kennedy Profile in Courage award this afternoon for his impeachment vote to convict former President Donald Trump in his first impeachment trial in 2020. While Trump went on to be acquitted by the Senate, the Utah Republican was then the only lone vote to convict Trump for abuse of power when he withheld aid to the Ukraine.
In 1994, Romney ran – and was unsuccessful – in his run against JFK's brother Ted Kennedy for the Massachusetts Senate seat. The virtual ceremony will be held in May where President Kennedy's daughter, Ambassador Caroline Kennedy, and her son Jack Schlossberg will be presenting the award. This Friday it was announced by The John F. Kennedy Library Foundation that Sen. Romney would receive the award for 2021 due to his "consistent and courageous defense of democracy."
"During a time of grave threat to U.S. democratic institutions, Mitt Romney has been a consistent but often solitary Republican voice in defense of democracy and the rule of law," the foundation said in the press release on Friday. Romney was also one of seven Republican senators who voted to convict Trump for incitement of insurrection regarding his actions that influenced the January 6th attack on the U.S. Capitol during the certification of the electoral college for President Joe Biden and VP Kamala Harris.
Without a doubt Romney was one of the former president's largest critics during his four-year tenure in the Oval Office. Not only did he critique Trump's erratic behavior, but the senator also pushed back on Trump's baseless election fraud claims during and after the 2020 election, including mail-in voting, acknowledging President Biden's legitimate win, and continued to criticize Trump's attempts to overturn the election's results.
However, Romney has currently taken the same stance as his GOP colleagues on Democrats' sweeping voter right's bill S.1. If passed in the Senate, the bill would expand access for early- and mail-in voting. It would also create an automatic voter registration for all eligible Americans. Romney told CNN's Manu Raju that it is "very unlikely" he would support the bill. "I don't want to federalize the elections," Romney said on Monday. "That's not what the Constitution demands, and I think states should have responsibility for conducting their elections."
Contact the Feature Writers