Matt Gaetz DOJ Inquiry Focused On Cash Payments To Women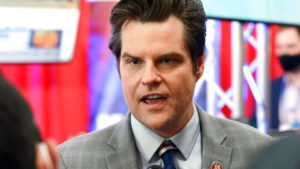 By Nikki Slusher
Oh boy, this one is really getting juicy. The New York Times released a follow up article on the investiGAETZion of the Florida congressman revealing that the Justice Department's inquiry is focusing on Gaetz's involvement with multiple women who he and his ally, disgraced former Seminole County tax collector Joel Greenberg, met online for sex and received payments for their 'services.' According to The NY Times article, multiple sources confirmed this on Thursday via text messages, payment receipts and people familiar with the investigation.
It's believed that Joel Greenberg would take the women on dates in exchange for dining, travel, various gifts and allowances.After these encounters, Greenberg would introduce the women to Gaetz who would also have sex with them. One of the women who had slept with both Greenberg and Gaetz also had agreed to have sex with one of the pairs Republican associates in Florida politics.This is in addition to the inquiry federal authorities have had open for months on Gaetz involving his possible relationship with a 17-year-old girl, and are also looking at if other men connected to Greenberg and Gaetz also had relations with the women and teenager.
Receipts for two mobile payment apps – Cash App and Apple Pay — show payments made by Gaetz and Greenberg to one of the women. Greenberg sent a second payment to another woman as well. The women had also told their friends that the payments in question were for sex with the men.
The encounters occurred between 2019 and 2020 when the congressman and tax collector would direct the women to meet up, most often at hotels in Florida, and then pay them whatever amount they wanted, according to interviews and text messages. Sometimes the men paid in cash, which was withdrawn multiple times at the same hotels where they had met up. Documents also reveal that on multiple occasions ecstasy,, an illegal mood-altering drug, was consumed before sex, including by Rep. Gaetz. And he didn't stop there, reports also claim Gaetz asked the women if they had friends who would be interested in sleeping with him and his friends. If anyone was to ask? Gaetz told them to say he paid for the hotel rooms and dinner as part of their dates.
As of Thursday night the congressman has yet to respond to the newly released details of this case. No charges have been filed against him yet either. Since he's now banned from Tucker Carlson and probably all of Fox News from any interviews, we can rest assured that there will most likely be a press conference held by Rep. Gaetz and his council – probably Rudy Giuliani — in the parking lot of Four Seasons Total Landscaping between the book store and dildo shop.
[si-contact-form form='2′]