From Player To Owner, How Former WNBA Star Renee Montgomery Met The Moment & Changed The Game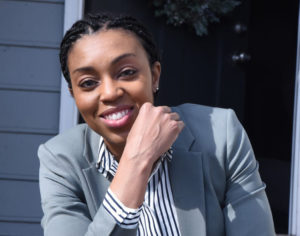 By Ty Ross
Former GOP Senator, and Trump sycophant Kelly Loeffler, was very vocal in her anti-Black Lives Matter rhetoric and stance. With a tight re-election race in full swing, she went all in on Republican talking points. Thinking for sure it would secure her Georgia's conservative votes and guarantee another term.
As part-owner of the WNBA team, the Atlanta Dream, what Loeffler didn't consider was that Georgia was going from purple to blue. And owning a popular sports franchise, comprised primarily of African-American women, in a city with a large African-American demographic, in a state with a long history of disenfranchisement of that very group; Loeffler had a chance to meet the moment.
She could have stood up with and for the players of her team. She could have sat down and had a real conversation with them. Yet she didn't. Going so far as to refuse to meet with one of the players who offered Loeffler that very opportunity. To hear the concerns and reservations of the Dream's players.
But for Loeffler, it was more important to be 'white' than right. And it was that stubbornness, lack of awareness and overall tone deaf attitude that not only led to Loeffler being forced to sell her share of the team, but it would be the very player she refused to acknowledge, who would buy it.
Enter former UConn Huskie, and two time championship winning WNBA player, Renee Montgomery. After 11 years as a player, and a short stint as a broadcaster, Montgomery decided to take the 2020 season off in the wake of George Floyd's murder and resulting nationwide protests for social justice.
As founder of the Renee Montgomery Foundation a year earlier, Montgomery wanted to devote her time and use her platform to elevate the voices of those demanding social justice and change. To promote equality, education and political agendas that catered to the long neglected needs of the black community.
Shortly after announcing her retirement from professional basketball, Renee Montgomery would announce that she was joining two other investors, Larry Gottesdiener and Suzanne Abair, as co-owners of the Atlanta Dream. Crediting Lebron James, for inspiring her desire to become a female owner of a professional team, Montgomery also serves as the Dream's Vice President.
While Kelly Loeffler may have dropped the ball, this two-time champ picked it right up and scored. Showing and proving what you can accomplish when you refuse, as those like Loeffler would prefer, to just 'shut up and dribble.'
But instead use your voice to enact progress and change. Setting an example, not just for people of color, but for women and little girls everywhere that if you can dream it, you can indeed achieve it.
Check out Ty's book THE POWER OF PERSPECTIVE. It's a collection of affirmations she wrote to get her through a difficult time in her life. Words of wisdom that apply to anyone, and everyone, to get through the hard times. If you're questioning yourself, and need a reminder that you are in control… Click HERE to order your copy.
[si-contact-form form='2′]