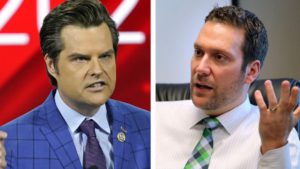 By Nikki Slusher
It appears that Joel Greenberg has decided to cooperate with the Justice Department on their current investigation into the onetime former Seminole County, FL. tax collector and everybody's least favorite congressman, Rep. Matt Gaetz (Q-FL).
Sources familiar with the discussions said Greenberg disclosed to investigators that he and Gaetz had multiple encounters with young women who were provided cash or gifts in exchange for sex with the two. Investigators claim the two creepers recruited the women online, including focus on if they had sexual encounters with a 17-year-old which also violates federal sex-trafficking statutes.
Greenberg claimed to have introduced Gaetz to the young women and provided details of firsthand accounts of their activities. Although his cooperation is helpful in their case against Gaetz, his credibility as a witness may be hard to keep considering he is facing dozens of various other charges including sex trafficking of a minor, stalking a political rival and corruption, according to a report by the NY Times.
The speculation over Greenberg's potential cooperation with authorities started drawing national attention last week, after Greenberg's defense lawyer and a federal prosecutor both said in court that it was likely he would agree to plead guilty in the forthcoming weeks. "I'm sure Matt Gaetz is not feeling very comfortable today," Fritz Scheller, Greenberg's attorney, told reporters after the proceedings took place.
The Times report also indicates that Greenberg decided to cooperate to secure some leniency after he realized investigators had an "overwhelming" amount of incriminating evidence against him. Both Gaetz and Greenberg ran in Florida's high-profile Republican political circles and were proud supporters of former Pres. Donald Trump. Often the pair was a vocal set of allies for each other and were a part of an elite network of the GOP's power brokers.
Now it seems they are joining the growing list of the GOPs most disgraced, powerless, and broke. #WeLoveToSeeIt
Contact the Feature Writers