Sink Your Claws Into the Neko Ghost, Jump! Demo, the Full Release Set to Launch Summer 2021- Gaming News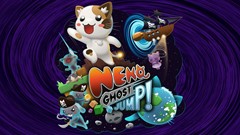 Save your kidnapped bride-to-be from nefarious Space Dog Pirates! Shed your corporeal form to fight enemies and solve unique platforming puzzles with Neko Ghost, Jump's unique 2D and 3D perspective-switching mechanics.
It's finally time to get your paws on the demo for Burgos Games upcoming title, Neko Ghost, Jump!, playable in both 2D & 3D! The current demo on Steam lets you play through the game's beginning levels and concludes with a chance to challenge the game's first boss.
The full game is set to launch for PC on Steam and Epic Games Store in Summer 2021, more details to follow in an upcoming announcement.
Check out the Latest Trailer.
About Neko Ghost, Jump!:
Nekoworld is a peaceful and fun-loving world inhabited by the Neko creatures. Nekoman has decided to settle down and marry the girl of his dreams but on the day of their wedding, Nekoworld is suddenly invaded by Space Dog Pirates! The flea-ridden foes abduct not only Nekoman's bride-to-be, but all of his family and friends. It's up to the player to help Nekoman defeat the Space Dog Pirates and save all of Nekoworld!
Neko Ghost, Jump! is a puzzle-platformer that utilizes the unique mechanic of switching between a side-scrolling 2D perspective and a full 3D one. Traversal in Nekoworld will require players to utilize each perspective wisely and challenge their reflexes to quickly change between 2D and 3D to solve puzzles.
Not only will players have to effectively change camera perspectives, they will also be able to switch between Nekoman's physical form and his ghost form. Ghost form is used to attack enemies, as well as solve some environmental challenges.
Once you think you've mastered the perspective-changing and ghost form mechanics, it's time to test your skills against other players in each level's time-trial leaderboard.
Neko Ghost, Jump! Features:
2D and 3D Camera Switching Mechanic
Swap Between Physical and Ghost Forms
8 Handcrafted Biomes, Each With Unique Enemies and Bosses
Leaderboard In Every Level
Hundreds of Character Customization Options to Unlock