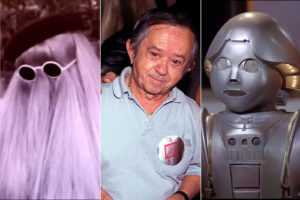 By Geoffrey Huchel
Felix Silla, known for his role of Cousin Itt on THE ADDAMS FAMILY died April 16, 2021, in Las Vegas, Nevada, after a battle with cancer. He was 84.
Born in Italy on January 11, 1937, Silla trained as a circus performer and came to the United States in 1955, touring with the Ringling Bros. and Barnum & Bailey Circus, where he showcased his talents as bareback horse rider, trapeze artist and tumbler. After his gig with Barnum & Bailey he went to Hollywood and built a wonderful career in both television and film.
He is best known for his appearances in the film THE BLACK BIRD (1975), the television series BUCK ROGERS IN THE 25TH CENTURY (1975) and the aforementioned THE ADDAMS FAMILY (1964-1966).
His additional credits include PETTICOAT JUNCTION (1963-1970), THE MONKEES (1966-1968), PLANET OF THE APES (1968), BEWITCHED (1964-1972), LINCOLN (1974-1976), HALLOWEEN WITH THE NEW ADDAMS FAMILY (1977), BATTLESTAR GALACTICA (1978-1979), MORK & MINDY (1978-1982), STAR WARS: EPISODE VI: RETURN OF THE JEDI (1983), THE DUKES OF HAZZARD (1979-1985), SPACEBALLS (1987), and BATMAN RETURNS (1992).
Ringside Report sends our condolences to Felix Silla's family during their time of grief.
Contact the Feature Writers