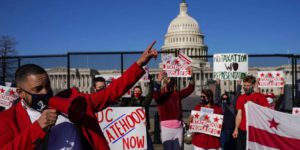 By Ty Ross
Thanks to the diligence of DC Delegate Eleanor Holmes Norton, a long time advocate for statehood, the introduction of HR.51, a bill that would grant DC statehood, has passed the US House of Representatives. In a narrow margin of 216-208, the legislation is on its way to the Senate.
This isn't a new bill, but rather a re-introduction to a previous version that passed the House last year but stalled in the Senate when then Senate Majority Leader Mitch McConnell refused to bring it to a vote. Further proving how important the slim Democratic Congressional majority is in attempting to pass legislation that will move the country forward.
One may ask, how can a city that houses the very seat of our government, and all three branches of power, not have full participatory representation in the government it holds dear? Well, we can thank the GOP for that. Their staunch opposition to DC statehood is less about the constitution, and more about demographics. DC is 46% black and tends to vote overwhelmingly blue in presidential elections. But regardless of that, giving DC statehood is less about partisanship than patriotism.
A city of over 700K people, citizens. Who pay taxes without representation in the body of government whose decisions affects them as much as the rest of us. For those who say DC is too small, well the city has more residents that both the states of Vermont and Wyoming.
This has been a long time coming. In 1993, HR.51, then called the Columbia Admission Act, failed miserably in the house. With the Democratic party split at the time, and the adjacent States of Virginia and Maryland, voting against it. But boy, how things have changed. 36 of the representatives who served 27 years ago, serve today. Both states now having representatives who voted in support of the bill.
Aside from just adding one full voting representative and two Senators, the mayor of DC would be changed to Governor, and granted such powers. There would be a repeal of the 23rd amendment, which will no longer be needed and one of the biggest benefits to DC being a state, is that Congress will no longer have the power to invalidate any law passed by DC voters. The District of Columbia will also be changed to Douglass Commonwealth, in honor of civil rights advocate Fredrick Douglass.
This is a huge win. Not just for DC, but the country as a whole. Franchising over 700K citizens and giving them a say in the future of the country.
Contact the Feature Writers