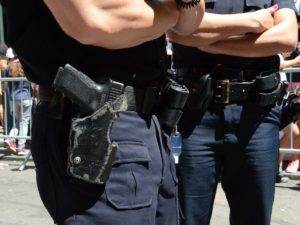 By Ty Ross
In just one week we have seen the conviction of George Floyd's murderer, the police killing of 16 year old Makiyah Bryant and the burial of 20 year old Daunte Wright. The young black man killed by a 26 year veteran of the Brooklyn Center Police Department.
That's a lot for anyone to absorb. You would think it would make law enforcement officers around the country more cautious, more aware. But it seems the opposite is true. In the same week that all of this transpired, two separate and unexplained shootings of unarmed black men in two separate states, have left their families and communities demanding answers. Asking why?
On Wednesday, the day before Daunte Wright was laid to rest in Minneapolis, 42 year old Andrew Brown was shot and killed by a Sheriff's deputy in Elizabeth City, NC, while the sheriff was executing a warrant.
Few details have been released by the County Sheriff's Department as to why the deputy opened fire on an unarmed Brown. According to witnesses in the area, Brown was attempting to drive away from the scene when the deputy fired multiple shots at him inside the vehicle. After the fatal shot, Brown's car skidded out of the yard and hit a tree.
Just one state away in Spotsylvania County, VA, 32 year old Isaiah Brown (no relation to Andrew Brown), was shot 10 times by a Sheriff's deputy. The deputy and Brown had a previous, unrelated encounter earlier in the day when the deputy gave Brown a ride home after his car broke down at a gas station.
Not long after being dropped off at home, Brown placed a 911 call that resulted in the same deputy being sent to the home. According to the Sheriff's department, the call was categorized as a domestic disturbance call. There is no evidence of any disturbance. Brown was seen walking away from his home as the deputy arrived. A few minutes later, the deputy opened fire. Hitting Brown a total of 10 times in the neck, chest, pelvis and face. While no one knows exactly why the deputy unloaded his weapon on Brown, the Virginia State Police has released a statement saying the deputy made an 'attempt' to engage with Brown verbally.
Brown's brother said that there was no warning of what was to come other than a one-time ordering by the deputy for Brown to 'put his hands up'.
So far the state police have said they will NOT be releasing the body cam footage, which seems to me if they did so would be the best and quickest way to bring transparency to the investigation. As well as provide some well needed and well deserved answers. Thankfully Mr. Brown survived his injuries and is currently in the hospital. Lets hope he makes a full recovery and is able to shed some light on this very dark and questionable situation.
Adding insult to injury is the failure of mainstream media to bring national attention to these two incidents. As the calls for police accountability get louder, the more the public knows about what is going on, the better chance we have of coming together to put an end to these senseless killings. That many in the country do not even know they happened is a sad commentary on where we are as a nation today. If we do not do something and do it quick the runaway train that is the law and order system in this country is going to go completely off the tracks.
Check out Ty's book THE POWER OF PERSPECTIVE. It's a collection of affirmations she wrote to get her through a difficult time in her life. Words of wisdom that apply to anyone, and everyone, to get through the hard times. If you're questioning yourself, and need a reminder that you are in control… Click HERE to order your copy.
Contact the Feature Writers