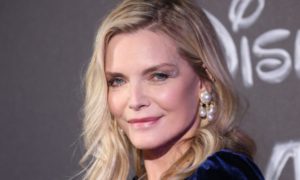 By Geoffrey Huchel
I couldn't let the day go by without recognizing the birthday of the legendary actress Michelle Pfeiffer. Being the superfan that I am, I'd like to celebrate her birthday by looking back at some of her performances that have captivated audiences for decades
Following a few appearances on television, the former beauty queen landed her first starring role as Pink Lady Stephanie Zinone in the musical GREASE 2 (1982). Pfeiffer's solid performance remains the highlight of the film, and almost 40 years later, fans of the actress continue to have an enduring appreciation for the film. GREASE 2 was the film that made me a fan, and for that I will always hold it in high regard.
Another favorite performance of mine would be her unforgettable portrayal of Catwoman in BATMAN RETURNS (1992). Pfeiffer is purrrfect as the timid and tragic Selina Kyle, who transforms into the slinky and mischievous Catwoman, and wreaks havoc in Gotham City, all while being romanced by Bruce Wayne/Batman.
Then there is her Golden Globe winning and Academy Award nominated performance as sassy Susie Diamond, a call girl turned sultry lounge singer who famously sings and crawls atop a piano while wearing that red dress in THE FABULOUS BAKER BOYS (1989). She really should have won the Oscar for that role.
As a fan of the horror genre, it was a real treat for me to see Pfeiffer star in the supernatural thriller WHAT LIES BENEATH (2000). Pfeiffer shines as Claire Spencer, a former cellist who experiences strange occurrences and believes herself to be haunted by a ghost in her home. Pfeiffer's horrific bathtub scene toward the end proves to be one of the film's most memorable moments.
In addition to the performances that I mentioned above, I would like to highlight some others which I have grown to appreciate over the years. They include Elvira Hancock in SCARFACE (1982), Sukie Ridgemont in THE WITCHES OF EASTWICK (1987), Angela DeMarco in MARRIED TO THE MOB (1988), Frankie in FRANKIE AND JOHNNY (1991), Ellen Olenska in THE AGE OF INNOCENCE (1993), Louanne Johnson in DANGEROUS MINDS (1995), Melanie Parker in ONE FINE DAY (1996), Rita Harrison in I AM SAM (2001), Ingrid Magnussen in WHITE OLEANDER (2002), Velma Von Tussle in HAIRSPRAY (2007), Lamia in STARDUST (2007), Elizabeth Collins in DARK SHADOWS (2012), Lillian in PEOPLE LIKE US (2012), Maggie Blake in THE FAMILY (2013), Kyra in WHERE IS KYRA (2017), Ruth Madoff in THE WIZARD OF LIES (2017), Janet Van Dyne (ANT-MAN AND THE WASP (2018), and her most recent Golden Globe nominated role, Frances Price in FRENCH EXIT (2020).
Contact the Feature Writers