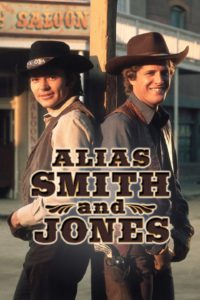 By Donald "Braveheart" Stewart
If lockdown has taken me on some kind of nostalgic kick towards those programs that I would like to revisit because they are close to my heart and being replayed on a platform somewhere then they also lead to me, inevitably to wishing that we could have some of the other things. That is, the stuff of which my childhood was full and now makes me want to revisit them as an adult as they held such sway with me as a child.
Alias Smith and Jones is one of these very nostalgia trips.
Hannibal Heyes and Kid Curry, played originally by Pete Duel and Ben Murphy are two names that I adored to hear as a child growing up.
They represented a different type of television – criminal tales told by the criminals themselves. The twist that made it truly worth the watch was that these two outlaws from the Wild West were due to be given a pardon by the governor. Just now though, they couldn't be given one as it was not politically the right time. These were therefore two desperadoes on the run from the very authority seeking, one day, to let them off! What a premise that was.
It ran on ABC from 1971 to 1973 and was an early hit for Glen A Larson who was to go on to have other hits like Magnum PI, Quincy MC and Battlestar Galactica but for now this was a staple of my weekly watching.
As before and with many series growing up, I knew not how it worked. I just watched the darn thing.
It was however the first time that I had every come across the idea that two actors could play the one role. I just didn't know why that happened and the tragedy that accompanied the change was something to which I was oblivious. In the 70's in the dawn of face lifts, I even entertained an idea that this was the very first time it had been used publicly. Even then I had an imagination…
So, the premise was simple and appealing. It was a western series where, Heyes and Curry are cousins and criminals, but they want to change. The governor has therefore in a scheme he cooked up, offered them a clemency deal. Their major problem is that they are the best damn criminals in their state and the governor cannot just grant them immunity without some kickback, so the deal is struck. There are a couple of conditions. One, they must keep it secret and two they remain wanted fugitives. Once the time is right, and it never was, they will be pardoned, but with a bounty on their heads, life sure is tricky!
The premise thus set, and life does indeed turn into being darn tricky.
Part of the attraction as that they never killed anyone, apart from Heyes once in self-defense. A little like the A Team there was plenty of violence, but it was safe to say it was cartoon style rather than big casualties. The 70's were indeed quite a gentler time.
To stay hidden our two anti-heroes had recast themselves as Joshua Smith and Thaddeus Jones, the aliases of the title, and began their life of law abiding non criminality. They then are faced, weekly, with the full weight of lawmen, bounty hunters and eager citizens keen to bring in these two scourges of society – and claim the sizable reward.
The blend of the two, Heyes, the brains and Curry, the gun guy was perfect, though this was not truly a brains and brawn partnership. It introduced us to historical events such as the border wars between Kansas and Missouri which is when their parents were slaughtered. It recast the western as a narrative that needed longer than a 90 minute format to delve into back story and provide more complex storylines. It had the tinge, for a wee Scottish kid, of the exotic. Like most British kids, I was already quite hooked on the white man narrative of American cinema that cast the brave white explorer going west against the savage Indians who scalped you, though this did not delve into the same racist trope, we still had a coupe of white dudes as heroes – easy to understand.
And then one of them died.
Not in the series but in real life. Apparently suffering from depression and during about of heavy drinking, Pete Duel, who was Hannibal Heyes, at the tender age of only 31, shot himself. In the days of no internet and not having 24 hour news, the shock of a new guy on screen came with none of the information ever wafting across from America. I just saw, mid season, somebody else on screen.
The font of all knowledge in our house, my father did not know why and could offer me no really helpful information and it took many years before I thought I would like to find out. It took until a week or so ago!
But the show was made to go on and apparently only 12 hours after Duel's death they were shooting – if you pardon the expression – scenes without him!
Heyes was now going to be played by Roger Davis, who was actually the actor who voiced the introduction so that had to be redone!
Connections to the genre were clear and it was no coincidence that after the success of Butch Cassidy and the Sundance Kid that TV executives would look to cash in on the appeal of such a format. The connections were actually quite real. Cassidy and Sundance, were of course real life characters and one of their associates, Harvey Logan, had the nickname – Kid Curry. The reach of the film into the series was complete when both characters from the film are about to rob a bank and Sundance announces to Butch, "I'm Smith and you're Jones" before they enter.
All of this I was unaware of as a child sitting in my living room, rooting for the bad guys.
Its demise came along with other Western style shows when the move towards more crime-based dramas saw their popularity wane. Bonanza was about to finish around the same time that Alias Smith and Jones finished but it remains one of those brilliant pieces of ingenuity that took a format, played with it and brought an original take on a classic to the screen.
We may look at post war westerns now in a whole new way – rightly so – but the story telling in alias Smith and Jones, though mainly white in focus, shows strength in the ingenuity brought to the tales. It captured a wee Scottish kid who adored the series. It didn't corrupt my feelings towards race, was gentle in its approach and gave me something to look forward to on a weekly basis for a period of time. Once it disappeared from the screens in the UK, I may well have been ready for the other pleasures of life as it seemed to slip from my consciousness rather than come to a narrative standstill and an obvious conclusion on which to end.
But for a while it combined the historic with the exotic and made it seem like a country that I would love to revisit through the TV on a weekly basis.
British television is a curious affair. Begun through the British Broadcasting Corporation (BBC) it is funded through the universal license fee. In essence, if you wanted to watch the television , you had to pay the license fee. The BBC got it all and is state run, albeit at arms-length. Then came along commercial television in the form of the Independent Television (ITV) in 1955. Designed to bring a bit of competition to the BBC, it was paid for through advertising but still free to air… well they didn't add another license fee to it. By the time that I was born, 1965, there was BBC1, BBC2 and ITV. And that was it. It was still years before Bruce Springsteen would moan that there were 55 channels and nothing on but here in the UK, we kept this going until in 1982, we added a fourth channel and in 1997, a fifth. With sparkling imagination, they were called Channel Four and ehm Channel Five… In between came Sky and we understood what Springsteen meant. And so, my childhood and leading up to early adulthood we had three options… But the programs made were exceptionally good. And so, here is some critical nostalgia as the lockdown has brought a plethora of reruns, new formats and platforms and old classics trying to make their way back into our consciousness as broadcasters flood their schedules with classics… or are they classics at all? Let me take you through an armchair critics' view of what we have to see, to find out… Welcome to the Lockdown Lowdown…
Contact the Feature Writers