Rudy Giuliani Cries Witch Hunt After Federal Investigators Raid His Home And Office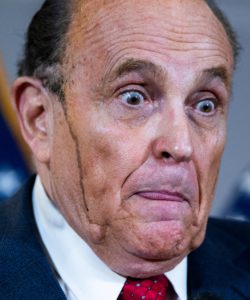 By Nikki Slusher
Last week reports swirled over federal agents raiding the NY home and office of Rudy Giuliani, who we all know of unfortunately so I don't even need to explain who he is.
Giuliani is now on the defense making his way through interview after interview on right-wing networks who will give him any air time. On Monday, Giuliani claimed that federal prosecutors are attempting to "frame" him using the Foreign Agents Registration Act (FARA) because of his loyalty and support of former President Donald Trump, who had employed Giuliani as his personal attorney.
In an interview with — yup, you guessed it — Fox News, the former NYC mayor blabbered on with claims that the investigation by federal prosecutors regarding if he violated FARA by acting as an unregistered agent for Ukrainian clients was simply an effort by the radical left and Trump's political enemies in an attempt to target the former guy's close associates.
Continuing to echo the cries of another Trump ally in deep shit with federal investigators— the Venmo-tional Rep. Matt Gaetz (R-FL) whom is facing allegations of sex-trafficking and payment for services — Giuliani mimicked his pal's crocodile tears stating, "They are trying to frame me. They are trying to find something they can make into a crime, some technical violation, some mistake I made."
He continued telling Fox News that "there is no way on Earth that they could have anyone telling the truth that I was acting as a foreign agent…nor do they have any evidence that I tried to influence the government on behalf of clients." I'm not sure if Giuliani even obtained his own law degree, but even Stevie Wonder could see through the leaky hair dye and rehearsed "woe is me" speech that only the Cheeto is able to pull off with his followers.
The investigation into Giuliani took quite a turn last week when FBI agents carried out a search warrant where they seized all of Mr. Giuliani's electronic devices from his home and office. While Giuliani maintains that he has been cooperating with authorities throughout the investigation and when the raid was conducted, he is loudly proclaiming that he believes the decision to raid him was an attempt to embarrass him due to his undying love and support for former President Trump.
Giuliani continued his Fox News interview, "Usually a person who has been a former assistant U.S. attorney, a U.S. attorney, a mayor, the associate attorney general, usually they receive a subpoena – not have their home raided," he said. "The only lawyers they raid are lawyers for Donald Trump. I can't think of another lawyer that has been raided other than lawyers for Trump." He finished by saying "Trump is in a special category because he doesn't have constitutional rights."
Giuliani is right on one thing – the only lawyers to be raided by federal agents in modern history are both of Trump's personal attorneys. The first was Michael Cohen, who plead guilty to his charges after paying off Stormy Daniels and numerous other shady dealings he carried out for Donald Trump were brought to light. The second is Rudy, who will shortly begin actually cooperating with investigators and pleading guilty probably by August if I had to guess.
One noticeable difference from Giuliani was that he didn't give any interviews from the Four Seasons Total Landscaping parking lot as the company tweeted, "Wrong apartment. We kicked him out months ago" accompanied by a picture of FBI agents standing in the same spot of the forever memorable speech that happened between a crematorium and a dildo shop.
Looking back it had quite the foreshadowing as Giuliani is definitely stuck somewhere between being dead and screwed. As for Donald Trump's comments on Giuliani's current legal circumstances, he apparently has no idea who he is but wishes him well.
[si-contact-form form='2′]