More Gaslighting from Your Favorite United States Representative Greene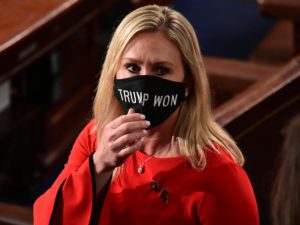 By Maya J. Carter
"I will not be used as a tool by the left or the right or the media or anyone or blamed for violence caused by radical domestic terrorists BLM/Antifa in a CLEAR SETUP. We will not play into the hands of the enemies within, who want to provoke violence, hurt innocent people, and then use it in a political spin to tear me down, our great police down, and the freedom-loving people of this country down." – Representative Marjorie Taylor Greene (R-GA)
Mad Marj is mad again. On a scale of 1-10, she's somewhere at a 8.73 – not quite mad enough to make a strongly worded statement against supporters of the orange monstrosity that beat Capitol police officers with flagpoles bearing tRump and Blue Lives Matter flags, but just the right amount of mad to invoke BLM and Antifa, her usual nemeses.
What's Mad Marj mad about now? Well, as per Newsweek, "Greene claimed organizers of the Ohio Back the Blue rally held other events at the state's Capitol that had security fencing so everyone's First Amendment and security needs were met. However, lawyers for the Capitol Square Review and Advisory Board (CSRAB), which manages events at the Capitol, and the Ohio State Patrol decided not to provide security fencing for Saturday's event, according to Greene."
Mad Marj is mad about a lack of adequate security for an event called the Ohio Back the Blue Rally which was hastily organized by the organization Ohio Gun Owners (but then promptly canceled) in support of a Columbus cop who shot and killed 16 year old Ma'Khia Bryant who was holding a knife. Mad Marj does not feel the need to discuss the lack of deescalation skills of the officer who killed the teen. And I doubt that Mad Marj is mad about the deaths of five Black children at the hands of Columbus police officers since 2016, children ages 13 to 17 years old.
Nope. Mad Marj is mad about an order denying fencing between the would-be gun toting supporters of the rally's mission, and counterprotestors (again, refer to her nemeses). Mad Marj is mad about a lack of security for her peeps and her peeps only.
But Mad Marj is a bit contrary in her madness. Please refer to her stance on security around the Capitol Building following the January 2, 2021 insurrection. According to Forbes, "Rep. Marjorie Taylor Greene (R-Ga.) on Tuesday asked the Pentagon to withdraw National Guard troops from the U.S. Capitol, citing an incident in which Del. Michael San Nicolas (D-Guam) led a contingent of Guam National Guard troops to her office." Furthermore, "Greene, in her letter, requested that National Guard troops at the Capitol be withdrawn and fencing with razor wire be removed, adding that military troops should "no longer be used as a political tool to intimidate, harass, or critique members of the press or Congress.'" Also, "the current fortifications at the Capitol, including several fences and thousands of National Guard troops, were put in place after Trump supporters stormed the U.S. Capitol on Jan. 6 in an effort to overturn the election. Greene, a staunch Trump supporter who has espoused belief in the pro-Trump QAnon conspiracy theory in the past, has downplayed the attack and frequently railed against the new security measures." Mad Marj was moderately mad here, but not mad enough to understand the need for extended security measures for the Capitol.
So, the question remains for Mad Marj is why be so mad about not receiving "appropriate" security including troops and fences for one small event, yet not maintain safety measures following an event that was so heinous that global leaders shared statements of concern regarding the state of democracy in America? Why state that the lack of security orders is an effort to make your group "look bad", when at the same time it looks bad, in her opinion, to have security surrounding the center of American democracy? Why is it always all about Mad Marj, specifically about "tearing her down", when she is so expert at tearing down people who do not think like her such as students trying to change laws to prevent gun violence and the killing of other teens and children? I have other questions, but I have come to believe that if we allow Mad Marj to keep speaking about what makes her so mad, our questions will eventually be inadvertently answered by her. In the meanwhile, please make Mad Marj's madness make sense to me.
[si-contact-form form='2′]