Liz Cheney May Be Out But She Lights Up the QOP!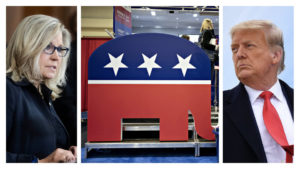 By Janet Grace
Liz Cheney opened a can of whoop *** on the GOP last night when she stated: "I will not sit back and watch while others lead our party down a path that abandons the rule of law and joins the former president's crusade to undermine our democracy."
HELLS, YEAH! THA'S RIGHT, THA'S RIGHT! SHH! QUIET, SHE'S SPEAKING!
Although, she mentioned no names, the raised eyebrows and dead man stare, had many squirming in their seats like four year olds when a mommy figure walks into a room.
"Millions of Americans have been misled by the former president. They hear his words but not the truth," Rep. Cheney, said.
Hours before the GOP Troll Patrol are set to possibly oust her; the VIG for voting to impeach and against their failed coup, The Disgusting Attack on our nation's Capitol, on January 6th, 2021.
These Cowardly MUTHAFUKKAS, who have no couth; whatsoever, are casting secret ballots. I hope to God and Hades it comes back to haunt them. Mark my words. The truth always prevails.
"The truth shall set you free. First, it will piss you off". – Gloria Steinem
"Remember The Capitol!" should be our rallying battle cry.
Credit to the actual news article goes to Alan Fram, AP NEWS, TOP STORIES.
Credit for the bastardization of his fine work .. c'est d'moi.
Blessed be, Folks
Peace, Out.
JG )O(
[si-contact-form form='2′]