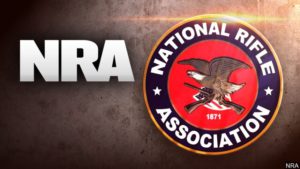 By Nikki Slusher
Federal Judge Harlin Hale dismissed the National Rifle Association's bankruptcy case this afternoon, leading way for New York's Attorney General Letitia James' office to pursue its case in dissolving the organization.
Judge Hale cited that the bankruptcy petition was "filed in bad faith" in order to avoid litigation by AG James' office over dissolving the NRA for allegedly misusing charitable funds. The decision comes after a month-long argument from lawyers for the NRA who claimed the bankruptcy case should move forward in Texas, where the NRA plans to refile itself as an organization. James' office cited the decision to file bankruptcy as an attempt to be reincorporated and "remove the NRA from regulatory oversight."
Judge Hale agreed with James' office's argument in his ruling issued earlier Tuesday afternoon. In his decision, Judge Hale wrote, "The Court finds there is cause to dismiss this bankruptcy case as not having been filed in good faith both because it was filed to gain an unfair litigation advantage and because it was filed to avoid a state regulatory scheme." He also declined the option to appoint an examiner or trustee to oversee the NRA's finances.
The NRA is headquartered out of Fairfax, Virginia, but has been incorporated in New York since shortly after the Civil War. In January, the organization decided to file bankruptcy five months after AG James' office filed a lawsuit to have the entity entirely dissolved. Per CNN, James' suit alleged that the NRA was in violation of NY's nonprofit laws after by-stepping the group's internal controls in order to participate in spending that was "inappropriate and a wasteful use of charitable assets."
The AG's suit also alleges that the NRA's leadership wrongly used millions of dollars from the organization's reserves in order to fund "lavish trips on private jets, meals and other personal expenses and that money was diverted to benefit NRA insiders and favored vendors, that Chief Executive Officer Wayne LaPierre handpicked associates to 'facilitate his misuse of charitable assets.'" Additionally, the NY AG's office claims that the NRA's board failed to follow the appropriate process to determine "reasonable" compensation for NRA executives, including CEO Wayne LaPierre.
AG Letitia James tweeted in response to the decision that "the NRA does not get to dictate if and where it will answer for its actions, and our case will continue in New York court. No one is above the law." Amen, sister.
It seems that Letitia James is the hero we have all needed, and we are here to watch her destroy the Trump Klan and NRA all at once. This story is still breaking news and we will continue to update when more information is released.
Contact the Feature Writers