$200B Railroad Connecting China to Russia Canada and the United States in The Works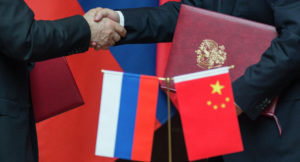 By Janet Grace
I first saw a video regarding this story and was so blown away by the content, I couldn't have translated what I'd just witnessed, had I tried.
Instead, I felt like I was standing on a New York Subway Track watching the express train fly by at an exceptionally super high speed, causing me to bat my eyes as though there was something in each of them.
This project was unveiled in 2014. Fast forward to today, we're all chomping at the bit to see it in action. Imagine what that would do to the world of corporate and personal travel? It takes 14 hours to plane it half way there. You can make this trip in two days. You can fast for the way there to get ready for all your going to enjoy and fast on the way back to recover from all you ate. This would make travel to and from The East as easy to get to as 1, 2, 3.
Oh, Lordy Lord! I hope to Goodness Gracious, The Buddhas, and the Blessed Wakandan's that I can live long enough to see it.
As for traveling in it. Oh, no, Babies. Y'all, have at it. I shall be watching from the side lines, as Godzilla takes a good chunk out of the whole middle of the first class section of the train soon after it leaves Mainland China, just so that I can give you the side eye and tell you that I'd told you so, even though I hadn't. I thought it and that should count as good as:
"Rock, paper, scissors! Shoot!"
China Railway are the master minds behind that which we'd all wondered about but never grew up to be the guy that made it possible. Instead, Poetic Justice gives that boon to the Chinese; ironically, given it was the majority of Irish and Cantonese Immigrants that built the transcontinental railway in the United States.
Did I mention again that this completely under water. You'll be passing Nemo and Sea Turtles, Jaws, The Kraken, Ariel, Poseidon, Some few thousand dinosaur fish, I'm sure even a few GOP members, not to mention the classic sightings of Jimmy Hoffa, Harry Potter and Davy Jones' Locker.
I credit youtube.com/China Uncensored for the video in this link. All rights reserved ©2021 China Uncensored.
I hope you enjoy this.
Blessed be.
Peace. Out.
JG )O(
[si-contact-form form='2′]