Three Years After Discontinuation Of The State's Needle Exchange Program, West Virginia Struggles As HIV Cases Soar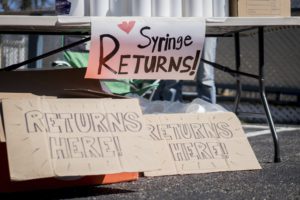 By Ty Ross
When the needle exchange program first emerged in the '80s, it was a grass roots community movement. Swapping clean needles for dirty ones, in an attempt to curb the spread of HIV in high-risk communities. Free condoms were also given out to sex workers, due to the two groups frequently overlapping. Despite being technically illegal, the efforts paid off with some places seeing drops by as much as 50% in HIV cases among IV drug users.
Between the needle exchange, condom distribution and more readily available anti-retroviral treatments, increased awareness and education saw the spread of HIV begin to decline by the mid-90s. Diagnosis no longer being a death sentence. Though over 700K people have died from HIV and AIDS related complications since the height of the epidemic, there are over 1 million people currently living with the disease.
With improvements in medicine we should be continuing the downward trend, but with anti-syringe activism on the rise, not only are we on the verge of seeing the state that paved the way for state funded needle exchange programs, Indiana, close theirs down after 6 years, West Virginia has seen a spike in HIV cases sense ending its own in 2018.
In recent years, a nationwide opioid epidemic saw attitudes toward state funded needle exchange programs shift. But I would say that had more to do with the demographic shift, than support for the program. From the predominantly black and brown people affected during the crack epidemic of the '80s and '90s, to the predominantly white opioid addicts of the rust and bible belts. Small town America. Places like Indiana and West Virginia.
In 2015, Scott County, Indiana was ground zero for drug use related HIV infections. A county of just 24,000, the small city of Austin (within Scott County), saw 200 of its 4000 residents test positive for HIV. Want to take a wild guess who was Governor at the time? You got it. Former Vice President Mike Pence. Pence also oversaw the closing of the area's only HIV testing facility, a Planned Parenthood. Shocker.
It was no secret how Pence felt about the needle exchange program. He had been very vocal in support of a federal ban. But after the spike in HIV cases related to intravenous drug use, and at the recommendation of the CDC, then Governor Pence gave in. Sorta. After telling the CDC he would 'pray on it', Pence signed a bill that allowed counties to apply for permission to establish a needle exchange program. But they would receive no state funds. Gee thanks, Governor. But it was better than nothing, I suppose. It has been said that had Pence acted sooner, 90% of the reported HIV cases could have been prevented.
After his poor response as head of the Coronavirus Task Force, I'm not surprised. But Pence wouldn't be Pence if he didn't giveth with one hand, and taketh with the other. The Evangelical way. On the same day he was so gracious as to allow organizations permission to ask for permission, he signed another bill. One that increased penalties for those found carrying needles. Even clean ones. No longer a misdemeanor, but now a felony that could be punishable by up to 2.5 years in jail.
The criminalization and stigmatization of those in crisis has been one of the biggest reasons those who need help, don't seek it. And only seeks to push those already in the dark, further away from the light. Increasing their chances of getting, and possibly dying, from what is a preventable disease if precautions are taken.
14% of those who inject drugs are already living with HIV. That is a huge number. And people who inject drugs and share needles, are 22x at higher risk of getting HIV. And with the opioid crisis and an HIV hotspot that includes, Indiana, Kentucky, Tennessee, West Virginia and Ohio intersecting, Indiana would be wise to watch what is going on in the state of West Virginia. A state already broken from the collapse of the coal industry, before doing something that will have far reaching repercussions.
Kanawha County, West Virginia is home to 178K people and the state capital, Charleston. It is also home to the highest rate of opioid addiction in the country and an overdose death rate double the national average.
In 2018, the state cancelled its needle exchange program citing health and safety concerns over used needles littering public parks and abandoned buildings. While that is indeed a problem, places such as Albuquerque has tried to mitigate that by installing secure trash boxes in public spaces to encourage the proper disposal of dirty needles. SHARPs has drop boxes and a non-emergency number citizens can call to have needles removed. There are ways it could be dealt with aside from ending a program that is so desperately needed at the height of an epidemic. Charleston, WV is a venn diagram where poverty, addiction and infection meet in the middle.
One prime example is that in 2014, less than 13% of HIV cases in WV were due to people who inject drugs. By 2019, just one year after discontinuation of the needle exchange program, that number had skyrocketed to 64%. When a County of less than 200K has almost the same number of infections as a city with 8 million, it definitely puts things into context. At least it should, anyway. But unfortunately, West Virginia doesn't seem to get it. I say this because legislation overwhelmingly passed the state Senate and House recently, that requires a photo ID for anyone seeking to get a clean needle, syringes to be bar coded, and participating organizations to obtain a license. In addition to that, they must also provide substance abuse treatment referrals, wellness checks, and wound treatment. Anyone not providing these additional services are prevented from providing clean needles. Police have also been running sting operations, and SB334 imposes civil penalties of between $500-$10K for providing clean needles.
The cost to WV for treating just 35 of those diagnosed with HIV in 2020 is roughly $17M, and approximately $44M to treat the 635 cases of chronic Hep C, versus the $62 per person it costs to provide vaccinations and screenings. So not only is doing away with the program costing West Virginians their health, it is costing the tax payers money. Money that could be used for treatment, counseling and a myriad of others resources needed in the poverty-stricken state.
President Biden has expressed support for not just needle exchange, but fentanyl test strips and widespread HIV and Hep C testing. Those who participate in needle exchange are 5x more likely to eventually seek treatment. Now is not the time to abandon those in crisis. Nor is it time to undo all the progress made over the past few decades because of politics or partisanship. The numbers don't lie. Community resources are already stretched thin due to the Coronavirus pandemic, we cannot physically, economically or financially afford a surge in another, more preventable one.
Check out Ty's book THE POWER OF PERSPECTIVE. It's a collection of affirmations she wrote to get her through a difficult time in her life. Words of wisdom that apply to anyone, and everyone, to get through the hard times. If you're questioning yourself, and need a reminder that you are in control… Click HERE to order your copy.
[si-contact-form form='2′]