House Passes Bipartisan Commission for 1/6 Insurrection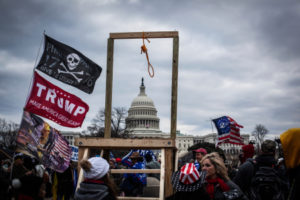 By Nikki Slusher
House Resolution 3233, the bill to establish a bipartisan commission regarding the Jan. 6th insurrection on the Capitol during the certification of President Biden's electoral college votes, has passed with a 252-175 vote this Wednesday afternoon. This is a small victory on the way to getting justice; however, the bill will face hurdles as it will need at least 10 Republican senators to vote in support of it to pass the Senate where currently Minority Leader Sen. Mitch McConnell (R-KY) has been openly opposed to the commission.
GOP opposition began as soon as the idea of a commission was even brought up, yet H.R. 3233 passed largely across bipartisan lines in the House where 35 Republican members voted in support of the bill even though Minority Leader Kevin McCarthy (R-CA) strongly opposed it. During the House debate, GOP Texas Rep. Roy Chip called for existing congressional powers to investigate the 1/6 attack and work along with the Justice Department who is handling the investigation on the legal end.
The leaders of the GQP in both branches of Congress have continued to echo each other's comments in hopes that they could block the resolution from passing. Senate GQP Minority Leader Mitch McConnell urged his party's members on Wednesday morning to oppose the legislation to create an independent commission to launch a probe on the insurrection. But it isn't because they want to move on forward, it's to protect their party members who are accused of aiding the rioters before and during the attacks.
Like most turtles, McConnell worked slowly and his House counterpart was unable to keep the party from passing the bill on the House floor. Meanwhile Democratic House Rep. Tim Ryan (OH) eviscerated his colleagues who opposed the commission by bringing up past commissions that had been established in earlier years.
"Benghazi — you guys chased the former Secretary of State all over the country, spent millions of dollars," Ryan said, referring to the scandal that ultimately led to them Secretary of State Hillary Clinton to hours of questioning over her departments failures in that event. "We have people scaling the Capitol, hitting the Capitol Police with lead pipes across the head and we can't get bipartisanship. What else has to happen in this country?" Ryan added, "We need two political parties in this country that are both living in reality and you ain't one of them!"
McConnell previously stated that the commission into the events would overlap in law enforcements efforts. "It's not at all clear what new facts or additional investigation yet another commission could actually lay on top of existing efforts by law enforcement and Congress," he said. His comments come one day after Donald Trump rage faxed a statement demanding McCarthy and McConnell fully reject the commission.
Currently there are more than 440 people who have been arrested for their role in the Capitol attack, with many having ties to far-right extremist groups. Five people also lost their lives that day, including over 140 injuries to law enforcement officers.
[si-contact-form form='2′]