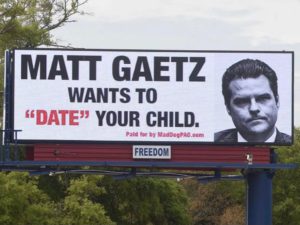 By Maya J. Carter
I am sure you have seen countless, unbelievable "Florida Man" headlines in the news. Some are outrageous, some are out of control, and some are downright mind-boggling. Here are some examples:
"Florida man accused of jumping naked on neighbor's trampoline before breaking into home" – wsoctv.com
"Feds charge Florida man with fraud for buying a Lamborghini with COVID-19 relief funds" – usatoday.com
"Florida man tried to escape cops by stripping naked. Ribeyes fell out of his pants." – usatoday.com
"Florida man allegedly pulls out 'dank gummies' when deputies ask for ID" – iheart.com
"Florida Man arrested for speeding claims he was trying to go back to Cuba" – nbc-2.com
"Florida man burglarizing home rushed out with truck, sword, laptop, but leaves behind phone" – msn.com
"Florida man who called himself 'Antifa hunter' gets 3 years for online racist threats" – clickorlando.com
"Florida man pushes pastor, knocks churchgoers to ground because service was too loud, police say" – clickorlando.com
"Naples man calls 911 about McDonald's order & says he has cocaine 'in his butt'" – nbc-2.com
"St. Pete man donned blonde wig to commit burglary. It didn't work, deputies say" – tampabay.com
"Blowing a hair dryer up your nose won't kill coranavirus [sic], despite what a Florida commissioner said" – clickorlando.com
"Burglary suspect, 39, dressed only in his underwear strikes Florida sheriff's deputy across the face with a Bible while screaming 'I condemn you'" – dailymail.co.uk
"Narcotics Found in Package Labeled 'Bag full of Drugs' During Traffic Stop in Florida" – ktla.com
…And those are only a few of the more interesting head scratching headlines which question what may be in the alligator infested swamp water surrounding the state. The "Florida Man" headlines have inspired memes out the wazoo, and they just keep coming. But what does it say when a walking, talking meme in Congress – recall wearing a gas mask to "own the libs" during a session in Congress and having his rich daddy bail him out whenever faced with trouble from the law – joins the "Florida Man" frenzy?
Representative Matt Gaetz (R-FL) would be wise to keep out of the headlines. This being especially in light of the ongoing investigation by the Department of Justice started in 2020 by the orange monstrosity appointed Attorney General Bill Barr who are investigating whether Gaetz "had a sexual relationship with a minor and paid for her travel" according to Business Insider, possibly violating sex-trafficking laws. Gaetz's good buddy, former Florida tax collector of Seminole County Joel Greenberg, has pled guilty to six federal charges in a federal court in Orlando, with charges ranging from sex trafficking a minor, "producing a false identification document, identity theft, wire fraud, and conspiracy" as per Newsweek. Additionally, "Greenberg's plea deal is a blow to Gaetz, 39, a vocal supporter of former President Donald Trump. Greenberg's close co-operation to Gaetz marks a significant escalation in the Justice Department's investigation and could add to the Florida lawmaker's legal and political crisis." In his defense, Gaetz is quoted as saying, "I'm being falsely accused of exchanging money for naughty favors" to NBC News, and tried to compare earmarking in Congress as a worse form of corruption.
He initially tried to deflect from his troubles by suggesting that he might leave Congress to begin a career with Newsmax. It is questionable as to how far that will get him, but it would be a bad look to be dismissed by the "news" station known for spewing conspiracy theories, going so far as to be afraid of even thinking the word "dominion" for fear of being named in a multimillion dollar lawsuit (they really cannot afford it). Even Faux New's Tucker Carlson who relishes in wading in pools of controversy publicly embarrassed Gaetz on national television as Gaetz tried to reel in Tucker with his trials and tribulations. So many headlines generated from that spectacle.
As well, Gaetz is trying to dodge his current woes by hitching his wagon to one of the few friends he has left in Congress, Representative Marjorie Taylor Greene (R-GA), AKA Mad Marj. You cannot make this stuff up! He is currently on an "America First" tour, having already made a stop at The Villages – recall one of the residents retweeted by his Dear Leader the Orange Dump was heard yelling "white power" to antagonize then candidate Joe Biden supporters.
As per Politico, Matt Gaetz was quoted as saying the following during the speech in central Florida on May 7, 2021: "I'm a marked man in Congress. I'm a canceled man in some corners of the Internet. I might be a wanted man by the deep state. But I am a Florida man, and it is good to be home," and "Today, we send a strong message to the weak establishment in both parties: America First isn't going away. We're going on tour." He is also noted to concede to possibly losing committee assignments, making he and Mad Marj quite the "winning" pair in Congress.
So, with Gaetz being a proud "Florida Man", I speculated about some potential headlines for upcoming news reports addressing said notorious Congressional Representative whose hubris knows no bounds. Here are some possibilities:
Florida Man Recruits Anglo-Saxons for "America First" Tour, KKK States "You're welcome to use our motto anytime, pal!"
Florida Man Feels the Law Closing In, Looks Up Meaning of "Consequences for my actions"
Florida Man Asks If He Can Wear a Gas Mask in Prison, In a Twist Is Now Pro-Coronavirus Preventative Measures for Prisoners
Florida Man Seeks Help from Fellow Congresspersons, None to be Found Except QAnon Supporters Contradicting the Conspiracy Theory Group's Entire Purpose for Being
Florida Man Asks "Nest or Not?"
Florida Man Raises Campaign Money with Tour, "Earmarks" Funds for Legal Defense
Florida Man Travels to Arizona to Back Audit, Federal Lawyers Audit His Venmo Account
Florida Man "Slams Targeting of Conservatives in the Military", Still Supports Five Time Draft Dodger
Florida Man Petitions Cyber Ninjas to Join Clown Car National Tour, Cyber Ninjas' "Stealthy Maneuvers" Evade Said Clown
Florida Man Claims He's Cancelled But Won't Stop Talking
Florida Man Opposes January 6 Commission, Continues to Gaslight his Supporters Because "They" Can't Handle the Truth
Florida Man Supports Boebert for Speaker of the House, Dems Reply "The Jokes Write Themselves, Folks"
Florida Man Invokes Tony Montana Due to Legal Woes, Snorts Mountains of …
Florida Man Tweets "You can't kill a movement like this", Attaches Video, Video Killed by Twitter
Florida Man Tweets "I will be releasing feral cats in the US Capitol Today", Feral Cats Ask if It's Legal to "Storm" His Office
Florida Man Under Investigation for Possible Sex Trafficking Screams "I hate traffic. I keep getting pulled over and tested."
These are just some possibilities. I wonder what headlines we will read next about this eponymous, self-titled "Florida Man".

Contact the Feature Writers