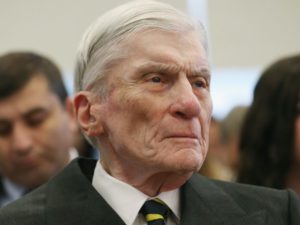 By Geoffrey Huchel
Politician and attorney John Warner died May 25, 2021, from heart failure, in Alexandria, Virginia. He was 94.
Warner was born on February 18, 1927 in Washington, D.C. Upon graduating from Woodrow Wilson High School, he enlisted in the United States Navy in January 1945, serving as the United States Secretary of the Navy. In 1950 he joined the Marines and served as a ground aircraft maintenance officer with the 1st Marine Aircraft Wing. He continued in the Marine Corps Reserves, eventually reaching the rank of captain. He is a veteran of both World War II and the Korean War.
During his years in politics, he served as Chairman of the Senate Rules Committee from 1995-1999 and Chairman of the Senate Armed Services Committee from 1999-2001 and again from 2003-2007. He was a five-year term Republican U.S. Senator from Virginia from 1979-2009.
He received a law degree from University of Virginia Law School. In 1960 he entered private law practice and joined Hogan & Hartson (now Hogan Lovells). In the 1960 United States presidential election he served as an aide to Vice president Richard Nixon campaign team.
Warner was married to Jeanne Vander Myde since 2003. He shares 3 children with his first wife, Mary Conover, and for a brief time was married to actress Elizabeth Taylor from 1976-1982.
Ringside Report sends our condolences to John Warner's family during their time of grief.
Contact the Feature Writers