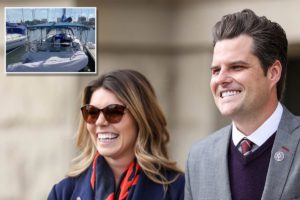 By Nikki Slusher
It seems that Matt Gaetz and his fiancée Ginger Luckey have lost $155,000. Amidst all of Gaetz's legal woes involving an investigation into the representative's role in a sex trafficking scandal with former friend Joel Greenberg, Gaetz and Luckey had been yacht shopping and claim that "malicious actors" stole the funds.
The congressman had previously claimed he was being extorted for money over the sex scandal. Now, him and his fiancée claim the $155,000 has gone "missing" since they tried to close the deal on the yacht named Ol Pappy.
"Rep Gaetz and Ms Luckey were the target of a financial crime," said Gaetz spokesperson, adding that the congressman has been "targeted by malicious actors, first domestic and now foreign." The spokesperson did not indicate how the money was stolen, but did tell reporters that "federal law enforcement" is investigating the case. The FBI has declined requests to comment on the situation.
Other yacht owners at the St. Petersburg marina where the yacht is anchored said they saw Gaetz and Luckey out in April inspecting the yacht. At the end of the month, the name had been changed from 'Ol Pappy' to 'Thirsty' around the time Gaetz was said to be closing on the purchase.
"A little premature without ownership of the boat," said Jon Golly, who is a boat owner at the same marina and saw Mr. Gaetz and Ms Luckey while they did the yacht's inspection.
Rep. Gaetz is no stranger to controversy as he continues to battle allegations he participated in sexual acts with women he paid via Venmo, engaged in drug use during these rendezvous', including with one woman who at the time was just 17-years-old. His former ally, Joel Greenberg, plead guilty to six out of 33 charges including the charge regarding the minor. The girl, now over 18, is also cooperating with authorities.
None of these troubles have seemed to hold Gaetz back from doing is national "America First Tour" where he announced he will run for President in 2024 if Donald Trump doesn't. If Gaetz thinks he's going to be handling his campaign and legal business from the marina then it's safe to say he's going to need a much bigger boat to fit everyone comfortably.

Contact the Feature Writers