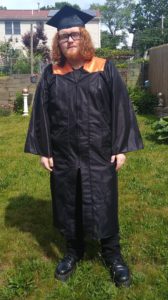 By Geoffrey Huchel
The day my son, Ethan entered kindergarten in September of 2008 is still as fresh in my mind as if it was only yesterday. There he was flashing a half smile, wearing his Mickey Mouse t-shirt, and his back pack fastened over his shoulders, waiting with anxious uncertainty of what to expect. The bell rang and soon that group of young scholars slowly filed inside to start their school journeys. Ethan looked back at his mother, his grandmother, his aunt and me with a face of fright, knowing that for the first time we wouldn't be with him as he entered a new phase of his young life. As strong as I thought I was being at that moment, I had to hold back tears, but they were tears of joy and of pride. I knew he'd be ok.
In September of 2017, Ethan entered high school. This time, however, sans his Mickey Mouse t-shirt; and a little less anxiety about being in a new school. My feeling about Ethan entering high school was just as bittersweet as the first time around, but also, I knew this is the time when he would become who he really wants to be. Attending a vocational high school, Ethan, as a freshman, entered the exploratory program, which meant, for a short period of time, he would be given the opportunity to learn a myriad of different shops, and at the end of the program, he would be able to select a few he liked the best. Ultimately, he chose Building Property Maintenance, a trade that consists of routine maintenance, cleaning, safety checks, repairs and upkeep of home, apartment, and rental property buildings.
There are two things that Ethan enjoys more than anything. They aren't in the same scope of his trade by any means, but they're something he is very passionate about- playing guitar and animation. He began taking guitar lessons in middle school and by the time high school came along, he was perfecting guitar riffs and shredding like the many incredible musicians that inspired him. He's added songwriting to his repertoire and is in the process of forming a band. Because of his passion and amazing musical abilities Ethan knew he wanted a career in music to be in his future. For his work in animation Ethan uses a digital tablet. The artistry he displays and the characters he creates can and should be featured in comics and graphic novels. The sheer and intricate detail in every one of his creations is awe-inspiring and a true gift that he shares with the world.
Ethan graduates today. It's been a long 13 years since his first day of kindergarten, and he reached the end of the scholastic tunnel. To me. Time seemed to fly. I assume to him, it was more at a glacial pace. Once he receives his diploma and walks across the stage into his future, I proudly declare that I have no doubt he will become the successful man I know him to be; whether he works in his trade, finds success as an artist and/or musician, or whatever else he decides to do. Those same tears of joy and pride I held back years ago will most likely be flowing just as rampantly on that day, all the while knowing that he will be ok.
Congratulations, Ethan, and to the Class of 2021! The future is yours.
To see and experience Ethan's music and art, give him a follow on Instagram at fenderart_ and fenderfreak_.
Contact the Feature Writers