Blue Bird Through My Window…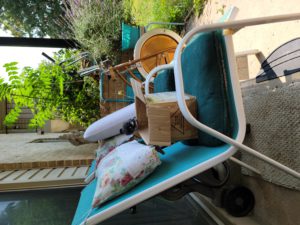 By Janet Grace
This morning found me reminding my chihuahua, Jacqueline, to be silent "Baby Sleeping" is the command, but she was insistent that I follow her to my favorite tree, Dewey (The other two are Huey and Louie), where a baby blue jay just sprouting wings had taken his or her show on the road, sans roadies, or stage hands.
I placed it back in its tree – twice.
By this time, my huntress, the cat, was peering over my shoulder looking to see if she could score on my findings.
Nope, nope, nope. Off I go to find a wild life sanctuary which will feed this guy worms like its mom for the next following weeks. I'd rather that than finding its remains somewhere.
I always ask myself when a wild creature comes into my world, what it means, spiritually.
This blue jay packs a punch when it comes to all the different supposed omens. If it's good, I'll accept it. If it's bad news, I disregard it.
I've included the article given if you're reading this, it now applies to you. Good luck, here we come!
Thanks, Baby Blue!
Sending love n misses to all.
Peace/Out,
JG )O(
https://www.worldbirds.org/blue-jay-symbolism/
[si-contact-form form='2′]