Wrestling Superstar "Mr. Wonderful" Paul Orndoff Dies at 71 – Entertainment News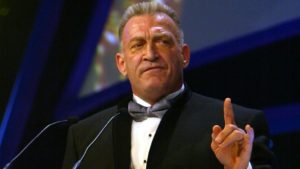 By Geoffrey Huchel
Professional wrestler Paul Orndorff, known to wrestling fans as "Mr. Wonderful", died July 12, 2021, in Fayetteville, Georgia, shortly after being diagnosed with dementia. It is unclear if dementia had played a role in his death. He was 71.
After a short stint playing football for the University of Tampa, Orndorff switched paths to wrestling. His professional wrestling career spanned from 1976 until his retirement in the early 2000s. During that time, he wrestled for World Wrestling Federation from 1983-1988, World Championship Wrestling in 1990, Universal Wrestling Federation, American Wrestling Federation, and the National Wrestling League from 1990-1993, and a return to the WCW in from 1992-2001. During his time on the WWF, Orndorff was featured in the major events WrestleMania, and the Survivor Series.
As a kid growing up in the 80s, I remember watching the WWF matches on television with my two older brothers. "Mr. Wonderful" Paul Orndorff was one of several iconic wrestlers to come from that era, which also included Hulk Hogan, "Macho Man" Randy Savage and Andre the Giant. The WWF was a definitive piece of my childhood, and the death of Paul Orndorff brings sadness to his many fans who watched him over the years.
Ringside Report sends our condolences to Paul Orndorff's family during their time of grief.
[si-contact-form form='2′]