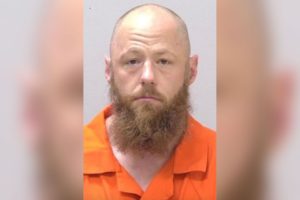 By Nikki Slusher
One of the FBI agent's who worked on the controversial investigation on the plot to kill Michigan Gov. Gretchen Whitmer last year has been arrested for assaulting his wife. FBI agent Richard Trask, from Kalamazoo, is accused of slamming his wife's head on a nightstand while choking her after a swingers party, per local news reports.
Trask repeatedly slammed his wife's head into the nightstand, choking her with both hands until she was able to grab his crotch and ultimately stopped the attack, per The Detroit News and court affidavits. When authorities arrived to their home, Trask's wife's chest, clothes, and hand were covered in blood and she had severe bruising on her neck which was also reported in the court affidavit.
The attack started after the couple had come home after attending an Oshtempo Township hotel event listed by the publication as a"swingers party." The couple left after having a few drinks and began arguing on the way home because Trask's wife hadn't enjoyed the soirée.
Per the affidavit, once the couple had arrived back at their home, Trask allegedly got on top of her slamming her head into the nightstand several times before she grabbed his long beard and was able to free herself. Trask grabbed her again and this time began choking her. She was able to get a good grab on his nether regions causing him to release her and that is where she was able to escape and call local authorities for help. Trask, 39, was arrested on Monday and is currently released on bond pending his court date.
FBI spokeswoman Mara Schneider told reporters that "in accordance with FBI policy, the incident is subject to internal review, and I cannot comment any further at this time." Trask is facing up to 10 years in prison for the charges that include assault with intent to do great bodily harm.
Sounds like he took his role as a neo-Nazi white supremacist who hates women a little too far this time.
Contact the Feature Writers