Actress Markie Post Dead at 70 – Entertainment News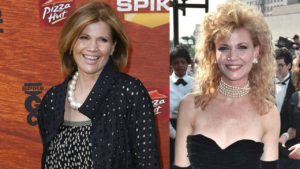 By Geoffrey Huchel
Actress Markie Post, known for her roles on the series NIGHT COURT (1984-1992) and THE FALL GUY (1981-1986), passed away August 7, 2021, after a battle with cancer. She was 70.
Post was born on November 4, 1950, in Palo Alto, California. Her acting career began in the late 1970s with appearances on series such as CHIPS (1977-1983), BARNABY JONES (1973-1980), THE INCREDIBLE HULK (1977-1982), BUCK ROGERS IN THE 25TH CENTURY (1979-1981), and HART TO HART (1979-1984).
Post remained a prominent fixture to TV and film throughout the 1980s, 1990s, 2000s, and until as recent as 2019. Her additional credits include EIGHT IS ENOUGH (1977-1981), THE GREATEST AMERICAN HERO (1981-1983), SIMON & SIMON (1981-1989), THE LOVE BOAT (1977-1987), CHEERS (1982-1993), FANTASY ISLAND (1977-1984), THE A-TEAM (1983-1987), HOTEL (1983-1988), BEYOND SUSPICION (1993), VISITORS IN THE NIGHT (1995), HEARTS AFIRE (1992-1995), ODD MAN OUT (1999-2000), THE DISTRICT (2000-2004), SCRUBS (2001-2010), GHOST WHISPERER ( 2005-2010), CHICAGO P.D. (2014-), SANTA CLARITA DIET (2017-2019), and THE KIDS ARE ALRIGHT (2018-2019). Post will also be remembered for playing the mother to Cameron Diaz's character, Mary, in the hit comedy THERE'S SOMETHING ABOUT MARY (1998).
Ringside Report sends our condolences to Markie Post's family during their time of grief.
[si-contact-form form='2′]