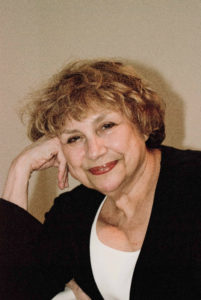 By Diane Batshaw Eisman, M.D. FAAP Doctor Eisman, is in Family Practice in Aventura, Florida with her partner, Dr. Eugene Eisman, an internist/cardiologist
Far too many thoughts, questions and irritations swirl around in my mind. The only quiet time for my tortured brain is when I am immersed in a London Times crossword puzzle.
In days gone by, I was a pianist. When my young self was absorbed in a concerto by Mendelssohn, it was if nothing else existed. My mind was quiet. There was nothing but music, waves of glorious music completely engulfing me.
In these days, my consciousness is now filled with random thoughts, worries, and concerns.
To my relief, one thought has recurred that it is not worrisome.
Why, on earth, is January First celebrated in the throes of winter? Why not have the first of the New Year occur in Spring? Imagine cavorting in a warm, breezy evening, without heavy clothes, freezing fingers and toes! There would be no snow….but why do we need snow for the New Year?
Our celebration and the name of that first month come from the Romans. They held a feast in honor of their god, Janus, who was the god of beginnings and also doorways.
Depictions of Janus represent him with two faces, one that faced backwards and one that faced forwards; to show that he was looking into the future while he still looked backwards into the past.
Around 700 B.C., Numa, a Roman king, decided to have January replace March as the first month. Previously, there had been ten months based on the phases of the moon, each month beginning and ending with the new moon. The calendar had been quite disorganized at that time and so January and February were added.
The Romans set the beginning of the New Year on the day when those who had attained their highest political office began their terms. This consulship began on the Ides of March which was also the start of their military season.
However, in 154 B.C. January First became the day that new consuls were elected to office. This Election Day was changed from March since March came from the god of war, Mars. It was felt that this was an inauspicious beginning for those who now held the highest elected political office
But, the calendar still seemed messed up, with different dates falling in different seasons. So, in about 46 B.C. Julius Caesar, in collaboration with a Greek astronomer, called Sosigenes, decided to add a few more days to the calendar and an extra day every fourth year to February.
January First as the start of the New Year has a complex history. After prowling through information about its beginnings; I learned that it was Julius Caesar who officially declared that date to be the start of the New Year
I am now in even greater turmoil. So many different calendars! So many different people tinkering with them!
In order to calm my chaotic mind, the real search will now begin as I retrieve the latest crossword puzzle from the recycle bin, raid the chocolate shelf and listen to the opening of Felix Mendelssohn's Piano sonata #1 in E Major.
Dr. Curmudgeon suggests "Bitter Medicine", Dr. Eugene Eisman's story of his experiences–from the humorous to the intense—as a young army doctor serving in the Vietnam War.
Bitter Medicine by Eugene H. Eisman, M.D. –on Amazon
Doctor Curmudgeon® is Diane Batshaw Eisman, M.D., a physician-satirist. This column originally appeared on SERMO, the leading global social network for doctors.
SERMO www.sermo.com "talk real world medicine"
Contact the Feature Writers