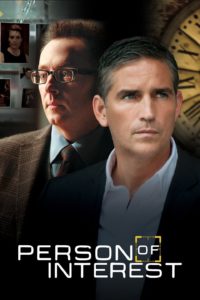 By Donald "Braveheart" Stewart
If there was ever a show which lost me towards the end it was Person of Interest. At the beginning it overflowed with great ideas and fantastic work as the story of a vigilante, given tasks from a computer that managed to calculate risk for people – they were either likely to commit acts of crime or going to be the victims – and then thanks to a billionaire benefactor, he was sent in to sort it out was a winner.
There were plenty of positives – the use of technology that was just on the side of believable, characters that had shadowy presents and odd pasts, the relationship with the police which was spiky as you had a strait laced cop and a slightly dodgy one and the love interest that came out of nowhere just in time to be totally extinguished.
And then it went full on conspiracy, and I got left behind a little. I was back on board, to an extent, for the finale, which was planned and complete, but it left me still wanting to return to the simplicity of the premise. That premise was summed up every episode by the warning at the beginning: –
"You are being watched. The government has a secret system: a machine that spies on you every hour of every day. I know, because I built it. I designed the machine to detect acts of terror, but it sees everything. Violent crimes involving ordinary people; people like you. Crimes the government considered 'irrelevant'. They wouldn't act, so I decided I would. But I needed a partner, someone with the skills to intervene. Hunted by the authorities, we work in secret. You'll never find us, but victim or perpetrator, if your number's up… we'll find you."
Over 5 seasons and 105 episodes, this Jonathon Nolan creation for Warner Brothers had the lynchpin, Harold Finch (Played by Michael Emerson) hide in public disused libraries – a warning to us all that these places should never be shut down. He was the inventor of a machine, The Machine, to do the calculation work and it now has a life of its own. Using their social security numbers to identify and send warnings using public telephones – yet another victim of modern technology – and all the available CCTV/public cameras to communicate, Finch would dispatch John Reese (Played by Jim Caviezel) to sort the problems. Often hindered and then helped by New York detectives (played by Taraii P. Henson) and Lionel Fusco (Played by Kevin Chapmen)
It ran on CBS in the US from 2011 to 2016 and then came across to us and got an airing first on Sky. Having J. J. Abrahams as an Executive Producer did it absolutely no harm and it managed to run unhindered for long enough to make it a staple in my house for most of that five-year period.
Whilst there were plenty of moral issues being raised in terms of a surveillance society for us, it was the way in which it weaved the crime issues into the fabric of the plots. This was beautifully done and the inevitable metamorphosis of the machine into something which was of itself a creation through AI that had its own life was where it kinda lost me. I am no science fiction buff, but the issues raised of privacy, justifiable killing and just how much law enforcement should act prior to an offence being committed were clear and open. It started me thinking, along with some of the real events happening which led to riots and Black Lives Matter style protests that perhaps there is a moral issue being played out in crime shows. How many times did I question the moral actions of a hero in solving a crime and how often did I get annoyed when the use of civil liberties blocked my hero from getting the "justice" they sought?
The fact was that it caught us all in a zeitgeist moment. We all had these issues running around our TV screens and the issues of a surveillance in our lives and the boundaries of state intervention was being debated widely. And here is the fictional embodiment of that!
The forces of good in terms of law and order came in the shape of Fusco, the formerly corrupt officer, now trying to live life far straighter and Joss Carter. Carter manages to progress from the sceptic and the barrier to understanding the issues to working alongside Finch and Reese against a shadowy organization called, HR, within the NYPD. She starts to develop a relationship with John which comes to an end as she is killed by HR. As you might expect, revenge is his.
These fairly complex narrative arcs strengthened the series considerably and when they were [personal, I was on board. The fight against another computer team, Vigilance using the code Samaritan which forces the good guys into further hiding, and the shadowy alliances against which the Machine and Finch and Reese battled and eventually seemed to lose, were a little too out there for my liking. I lost my mojo for it.
In the meantime, the use of Samaritan, ironically nothing like the biblical reference after which it was named, allowed the story to get further into the sci fi area and brought the people for whom that element of the show was the attraction further on board. I suppose that any Comic Con would love to have the players in the room thanks to the conspiracy theory nature of this story arc!
For me, though it was the team of six and their work that kept me watching. The four above were joined by Root (played by Amy Acker), a former foe who joins the work also worked remarkably well and added more spice to the team. Then comes Shaw, (played by Sarah Shahi) who has an inability to empathize but an exceptional ability to fight for the common good. Their back stories are very well developed and add to the matrix, if you pardon the pun, of the show's appeal.
There are a plethora of enemies in the opposite corner from this team, from the Mob, HR, the CIA, shadowy organizations and rather more well-known ones, but in the end, the finale is one that provides a real end with the inevitable death of John.
What does survive is The Machine. Having used computer technology to wipe out Samaritan, a week after the end of the humans, being able to fight evil, the machine reboots. A message to us all perhaps…
British television is a curious affair. Begun through the British Broadcasting Corporation (BBC) it is funded through the universal license fee. In essence, if you wanted to watch the television , you had to pay the license fee. The BBC got it all and is state run, albeit at arms-length. Then came along commercial television in the form of the Independent Television (ITV) in 1955. Designed to bring a bit of competition to the BBC, it was paid for through advertising but still free to air… well they didn't add another license fee to it. By the time that I was born, 1965, there was BBC1, BBC2 and ITV. And that was it. It was still years before Bruce Springsteen would moan that there were 55 channels and nothing on but here in the UK, we kept this going until in 1982, we added a fourth channel and in 1997, a fifth. With sparkling imagination, they were called Channel Four and ehm Channel Five… In between came Sky and we understood what Springsteen meant. And so, my childhood and leading up to early adulthood we had three options… But the programs made were exceptionally good. And so, here is some critical nostalgia as the lockdown has brought a plethora of reruns, new formats and platforms and old classics trying to make their way back into our consciousness as broadcasters flood their schedules with classics… or are they classics at all? Let me take you through an armchair critics' view of what we have to see, to find out… Welcome to the Lockdown Lowdown…
Contact the Feature Writers