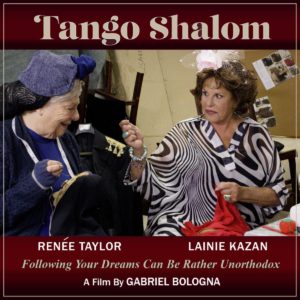 Personal Letter from Lainie Kazan to her fans around the world
I'm thrilled to be featured in TANGO SHALOM along with my longtime friend RENÉE TAYLOR. I play Leah Zlotkin a feisty fashion designer who's not about to let anyone get in her way. Feisty? Me? Sure it was a stretch, but, I think I nailed it!
On Friday, September 10, 24 more theaters will be showing TANGO SHALOM — totaling 10 in the Los Angeles and Orange County area / 15 in New York and New Jersey / and 3 in Canada. (Please scroll down for updated list and links for tickets. Subject to possible change.)
Audiences are raving over our heartfelt family comedy about love, friendship, and exquisite dancing. I'd love it if you'd take a moment to view the TRAILER.
This little movie has received awards at numerous film festivals around the world and I'm so excited to be a part of it. Here's a list of current awards received.
I sincerely encourage you to see TANGO SHALOM.
Love,
Lainie