"SNL" Alum Norm MacDonald Dead at 61- Entertainment News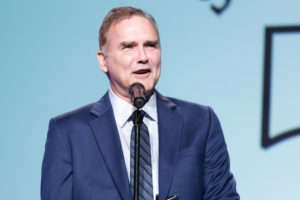 By Geoffrey Huchel
Actor and comedian Norm MacDonald, a fan-favorite cast member on SATURDAY NIGHT LIVE (1975-) passed away September 14, 2021, after a nine-year private battle with cancer. He was 61.
Born on October 17, 1959, the Canadian stand-up comedian, writer and actor was known for his deadpan style of comedy. Macdonald's first performances in comedy began at stand-up clubs in Ottawa in the mid-1980s. By 1990 he appeared on the talent show STAR SEARCH (1983-2004), and he was hired as a writer for the TV series ROSEANNE (1988-2018) for the 1992-1993 season before joining the cast of SATURDAY NIGHT LIVE in 1993. During his time on "SNL" MacDonald held the anchor spot for the "Weekend Update" segments from 1994-1998, and was known for his memorable impressions of Larry King, Burt Reynolds, David Letterman, Quentin Tarantino and Bob Dole. MacDonald left "SNL" in 1998 and returned as host in 1999.
MacDonald's additional film and TV credits include: BILLY MADISON (1995), THE PEOPLE VS LARRY FLINT (1996), NEWSRADIO (1995-1999), DOCTOR DOLITTLE (1998), DIRTY WORK (1998), CASPER MEETS WENDY (1998), THE DREW CAREY SHOW (1995-2004), MAN ON THE MOON (1999), NORM (1999-2001), DR. DOLITTLE 2 (2001), DR. DOLITTLE 3 (2006), MY NAME IS EARL (2005-2009), GROWN UPS (2010), THE MIDDLE (2009-2018), THE ORVILLE (2017-), and KLAUS (2019), among many others.
Ringside Report sends our condolences to Norm MacDonald's family during their time of grief.
[si-contact-form form='2′]