Actor Willie Garson Dies at 57 – Entertainment News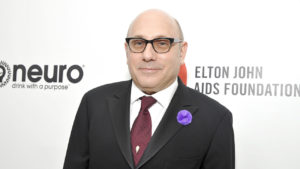 By Geoffrey Huchel
Actor Willie Garson, who may be best remembered for his roles on SEX AND THE CITY (1998-2004), and WHITE COLLAR (2009-2014) passed away on September 21, 2021, following a battle with pancreatic cancer. He was 57.
With over 150 film and TV credits, Garson was one of those actors that has appeared in so many things, chances are you may remember having seen him several times, whether in a film or a television series, without even knowing his name. I remember Willie Garson for his guest appearance as Steve on the hit series FRIENDS (1994-2004). Garson was also highly respected by his colleagues, who have been posting tributes and sharing memories of the actor and the wonderful experiences they had working with him.
His long list of credits also includes FAMILY TIES (1982-1989), CHEERS (1982-1993), QUANTAM LEAP (1989-1993), L.A. LAW (1986-1994), GROUNDHOG DAY (1993), UNTAMED HEART (1993), SPEECHLESS (1994), THINGS TO DO IN DENVER WHEN YOU'RE DEAD (1995), THE TIE THAT BINDS (1995), MAD ABOUT YOU (1992-2019), THE ROCK (1996), MARS ATTACKS (1996), THE PRACTICE (1997-2004), MELROSE PLACE (1992-1999), BUFFY THE VAMPIRE SLAYER (1997-2003), ALLY MCBEAL (1997-2002), THERE'S SOMETHING ABOUT MARY (1998), PARTY OF FIVE (1994-2000), NYPD BLUE (1993-2005), THE X-FILES (1993-2018), TAKEN (2002), FREAKY FRIDAY (2003), MONK (2002-2008), FEVER PITCH (2005), JUST LIKE HEAVEN (2005), SEX AND THE CITY (2008) SEX AND THE CITY 2 (2010), SUPERGIRL (2015-2021), and many, many more.
Ringside Report sends our condolences to Willie Garson's family during their time of grief.
[si-contact-form form='2′]