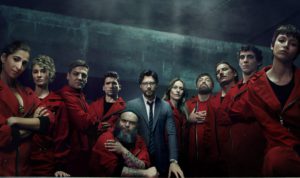 By Janet Grace
If you were to take the adrenalin rush of the Fast and Furious brand, the genius behind the Oceans 11 line-up, the grit of Goodfella's, Fight Club, the psychological thrill behind Silence of The Lambs, Se7en, The Shining and the well placed occasional humor of Frasier and Niles, you would end up with a pretty complex shit-show of a Monster Hit. Such a series is this, created by Alex Pina.
Casa De Papel or Money Heist, the English Title, was a Spanish treat that was quickly losing steam and revenue in Spain, despite its phenomenal storyline and exquisite acting skills of the entire cast.
Netflix acquired this gem of a story in 2019. They retitled it Money Heist, translated it into all languages. The rest has been history.
The story revolves around two brothers, whose father, a brilliant thief, died without being able to manifest his dream of robbing The Bank Of Spain.
With a perfected plan, over twenty years in the making, the brothers find the world's most dangerous and wanted elite criminals and form a gang of ruffians who are trained to the hilt in all the factors in the art of thievery, weaponry, marksmanship, surgical skills and then some.
We don't need no stinking doctors. This crew patches up their own and keeps on rocking.
You'll fall in love with each character individually, their stories and backgrounds are flamboyantly painted for the viewers who do, to realize that each one carries the same flaw: They are lovers before fighters. It's their love for each other that holds them together. Will it also be their demise?
We've yet to conclude the finale, due out in December 2021, a whole season earlier than most have to wait but we'd have stormed the castle had they made us wait any longer.
In this last series, the gang has already become famous for having executed their plan but one gang member's carelessness has them join in solidarity and before long, the gang has upped the ante and is back at it again, this time, for love.
The one caveat that I appreciated was their inclusion of all genders, non binaries, and preferences. What was sorely missing was color. Where the black folks at? Spain is a mixed as America is. What happened there is racism, unfortunately. A "tiny" oversight they've yet to address.
No pasa nada or Nothing is happening, a regularly used term; as the loose translation states and seems to suggest, is a white wash on a dark subject.
If you are able to watch without seeing our own melanin graced loved ones sorely missed on this show, this is a must see series beating Ozark by a mile, in shock value alone.
Ratings are: IBDm gives it 8.3/10; Rotten Tomatoes rated it as a 92%, audience gives it a 4.8%, and although it is not over yet, based on what I've experienced, Ì rate it a 9.8/10, IMHO.
I didn't give it 5 stars because of the lack of POC cast plus, the fact that the subtitling did no justice to what was actually being said in the original Spanish language, losing much of its grit and humor in the translation. I watched it in Spanish w English, Portuguese and French subtitles and sure enough, just as our favorite word: "Fuck", cannot really be translated into one word to exclaim joy or dismay, many languages lose their pizzazz when translated into different languages. To my family, the word "joder" used in the movie to signify "fuck" is actually less alarming. It's Winnie The Poo's favorite: " Oh, Bother!" Curse words aside, while the plot remains the same, the nuances enhanced by Spanish, Basque, Castellano and Catalan expressions used are either diluted or completely lost in translation.
Despite this, your hair will be on fire regardless of which language you prefer. Enjoy!
Writer/ Director: Alex Pina
Cast: Forenote: These seasoned Cast members' list of accolades would encounter another five page summary. Trust me: you'll know their names. Here they are:
Ùrsula Corberò: Tokyo
Alvaro Morte: The Professor
Alba Flores: Nairobi
Pedro Alonzo: Berlin
Miguel Herràn: Rio
Jaime Lorente: Denver
Itziar Entuño: Raquel Murillo
Darko Perič: Helsinki
Enrique Arce: Arturo Román
Najwa Nimri: Alicia Sierra
Holvik Keuchkerian: Bogotá
Luka Peíoš: Marsella
Paco Tous: Moscow
Roberto García Ruiz: Oslo
Clara Alvarado: Ardiana Cascales
That's it for today, Beautiful People.
Sending love out to all. No pasa nada!
"Ciao, boom- boom, Ciao".
JG )O(
Contact the Feature Writers