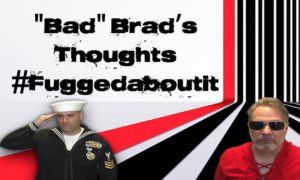 By Nikki Slusher
On his latest episode the man with the pinky ring and New York thing gives us another #fuggedaboutit breakdown on the former Cheeto's statement regarding the passing of General Colin Powell and he's not holding anything back.
As most readers know, "Bad" Brad spent over two decades of service dedicated to our country. Although never getting the chance to personally meet Gen. Powell, he did serve under him during his military tenure. While they shared differing political views, Gen. Powell according to Brad was "well respected."
"He was honorable, he was a leader, and he was a decent human being," Berkwitt said. He also noted that Gen. Powell did not support former President Donald J. Trump. Meanwhile, the "Petulant Child-In-Chief" as Berkwitt likes to call DJT, didn't like Powell because he wouldn't kiss the ring of the fake news king.
"He doesn't care about you, he doesn't have loyalty to McCarthy or anyone who kisses his ass," he reiterated. Berkwitt then goes in on how TFG's statement (that's most likely written in Crayola) released in the wake of the news on Powell's death. Trump took the time to call Powell a RINO — Republican in name only — and went on to rant about how the fake news media made him out to be a good man, something Trump expresses he also hopes they do when it's his time — and lord knows we are all counting down the days (kidding).
General Powell died on Monday after complications due to COVID-19. Trump immediately took the opportunity to attack Powell in postmortem, reminding us of his actions that followed the death of others TFG found not loyal to him, including Rep. John Lewis and Rep. John Dingell who were the two longest serving members of Congress.
In his statement, Trump berates Powell on the Iraq War and mentions his disdain for how the media is treats his death "so beautifully" after his death. "Hope that happens to me someday," Trump said. "He made plenty of mistakes, but anyway, may he rest in peace!" he said.
"General Powell was a man who cared about his country. He was a leader," Berkwitt continued. "He served a big chunk of his life, something that Trump never did." The statement coming from the former guy brings back a reminder to when war hero and Senator John McCain passed from cancer in 2018. "I don't like my war heroes captured," Trump had told his followers about the late Senator.
"He's a petulant little child who lashes out," Berkwitt succinctly sums up his thoughts, stating what most of us have been thinking for the last five years. The episode really does give us civilians a glimpse into how our soldiers felt about the former Secretary of State, and deepens are understanding into how Gen. Powell was viewed by the service members who worked with him. Powell was a man of service to his country, something the former guy will never be.
We send our condolences to the family of General Powell and appreciate the dedication he gave to this country.
Contact the Feature Writers